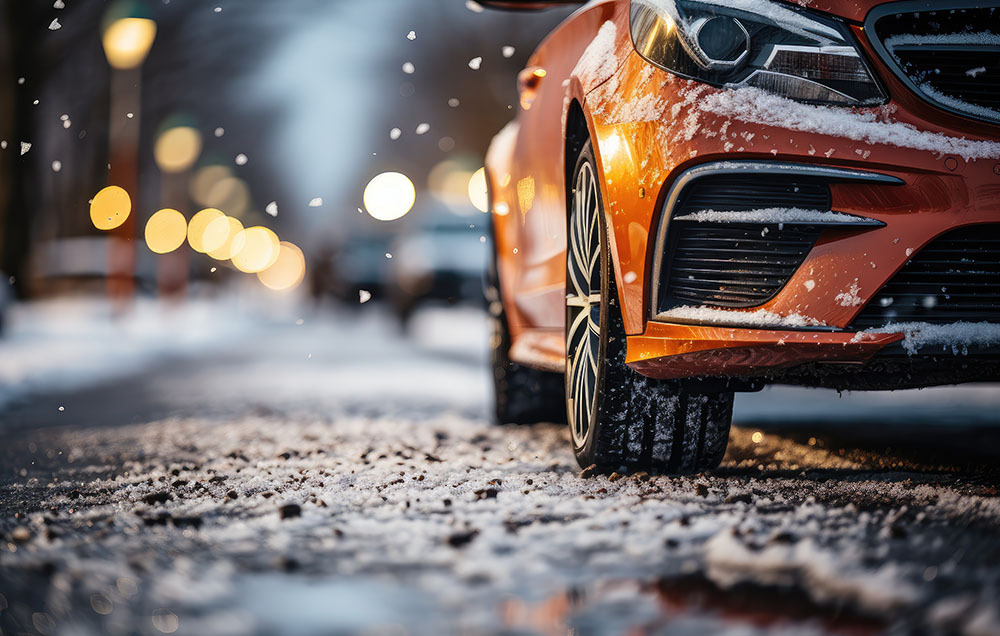 WHAT
TIRES ARE GOOD FOR COLD WEATHER?
If you're familiar with road salt, you probably know why winter tires are for driving in cold weather and snow. People living in regions that receive winter weather like snow and ice are generally better adapted for winter driving because they know how to drive on icy roads. Nonetheless, winter conditions like wet roads and slush make winter driving more challenging than summer. To help you pick the right tires for your winter driving needs, we put together a brief guide that. 
Types Of Tires
Snow traction is the main reason people use snow tires, especially for SUVs. Conversely, all-weather tires are popular year-round tires but is it worth changing from all-season tires to winter tires every year? It depends on your region. For example, driving in deep snow with potential hidden black ice on the road can be life-threatening without the proper equipment. Conversely, using winter tires in regions that don't usually experience freezing temperatures is overkill. Let's review the types of tires and where and when you should use them.
All-Season Tires 
People in moderate climates shouldn't need the tread patterns found on winter tires. As such, all-season drivers can use one set of tires year-round and change them when they wear out. All-season tires provide balanced performance for regions that don't typically see freezing winter weather. All-season tires have rubber that hardens. When it rains, water can get trapped inside the treads and cause hydroplaning. All-season tires also have channels in the tread patterns that drain water from the treads.
Winter/Snow Tires
Winter tire treads are designed for snow, ice, and slush traction. The treads on winter tires use a rubber compound that stays flexible in winter weather. The result is better traction because the treads bite into the road surface. Winter tires also have double the sipes of all-season tires. Sipes are horizontal grooves with edges that help tires dig into road surfaces with biting edges.
Summer Tires
As the name implies, summer tires are for regions that don't have much rain. Some call summer tires performance tires because they are engineered for skilled drivers who can bite corners on a track. With summer tires, drives have suitable traction on wet or dry roads.
Tire Manufacturers and Engineering for Traction 
Tire manufacturers like Bridgestone, Continental, Pirelli, Goodyear, Michelin, Hakkapeliitta, Yokohama, and Firestone sell all three tire types. These manufacturers also have summer and winter brands of tires—for instance, The Bridgestone Blizzak, Blizzak DM, and the Michelin Ice-X. For more information, check out TreadNation.