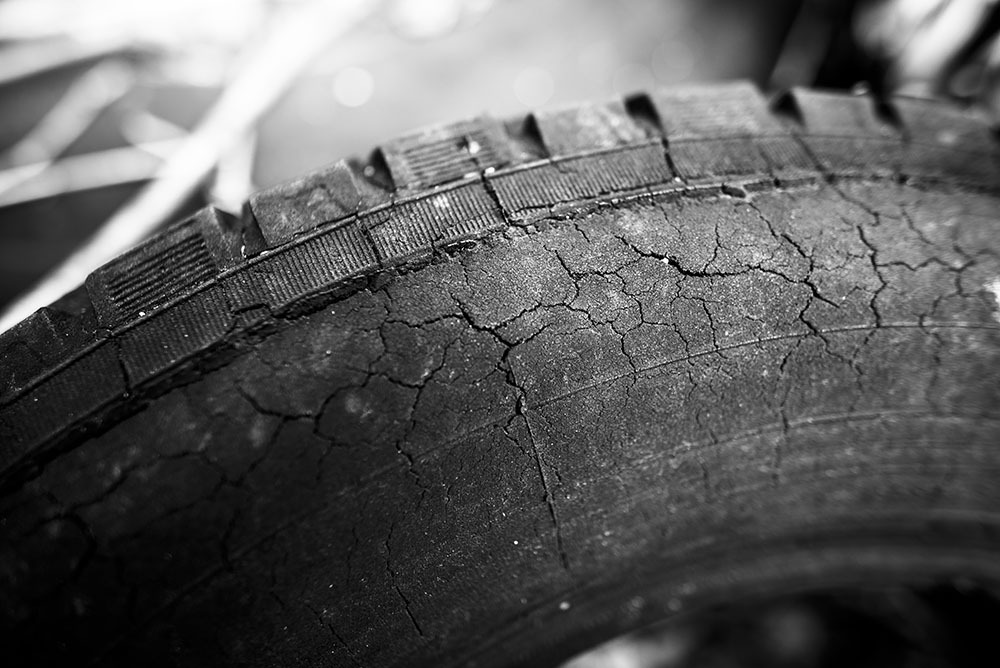 TIRE
LIFESPAN AND WHEN TO REPLACE THEM
Understanding tire lifespan and when to replace them is crucial to ensure your safety on the road. Proper maintenance of your vehicle's tires enhances performance and reduces the risk of accidents. Continue reading to explore essential factors that affect longevity and tire safety.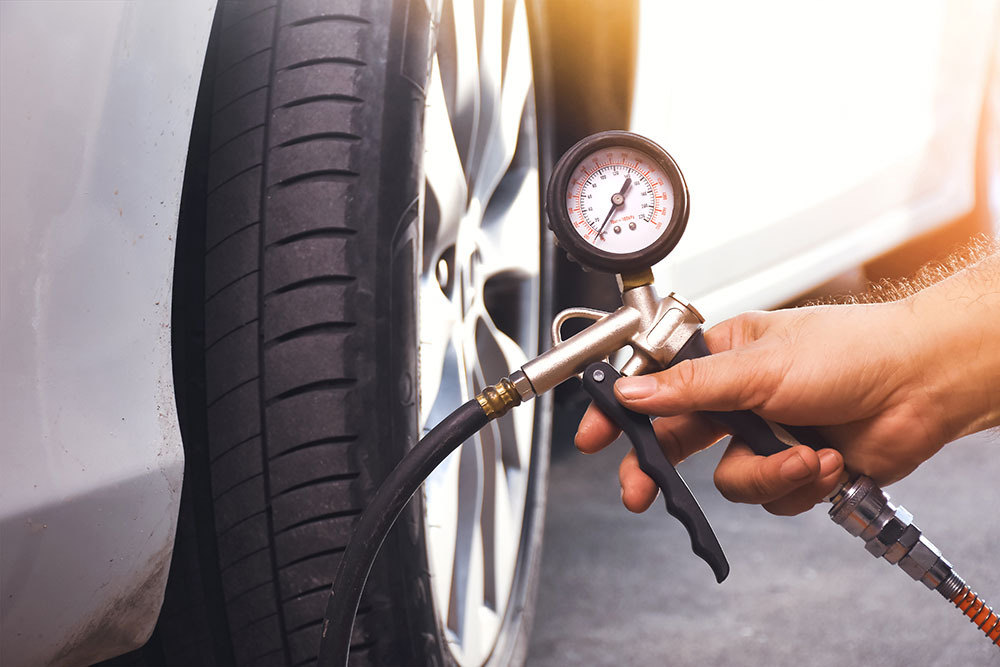 TIRE SAFETY:
HANDLING DIFFERENT WEATHER CONDITIONS WITH TREADNATION
Maintaining tire safety is a primary concern for all drivers navigating the diverse and often challenging Canadian road conditions. One factor often overlooked is the significant impact of weather conditions on tire performance.
PERFORMANCE
TIRES FOR SPORTS CARS: A COMPREHENSIVE GUIDE
Rising fuel prices mean people are paying more attention to fuel economy and looking for ways to minimize their fuel consumption. One thing that often gets overlooked is tires. Overly worn tires or ones that aren't properly inflated can consume more fuel than their newer counterparts, as well as offering a less comfortable ride.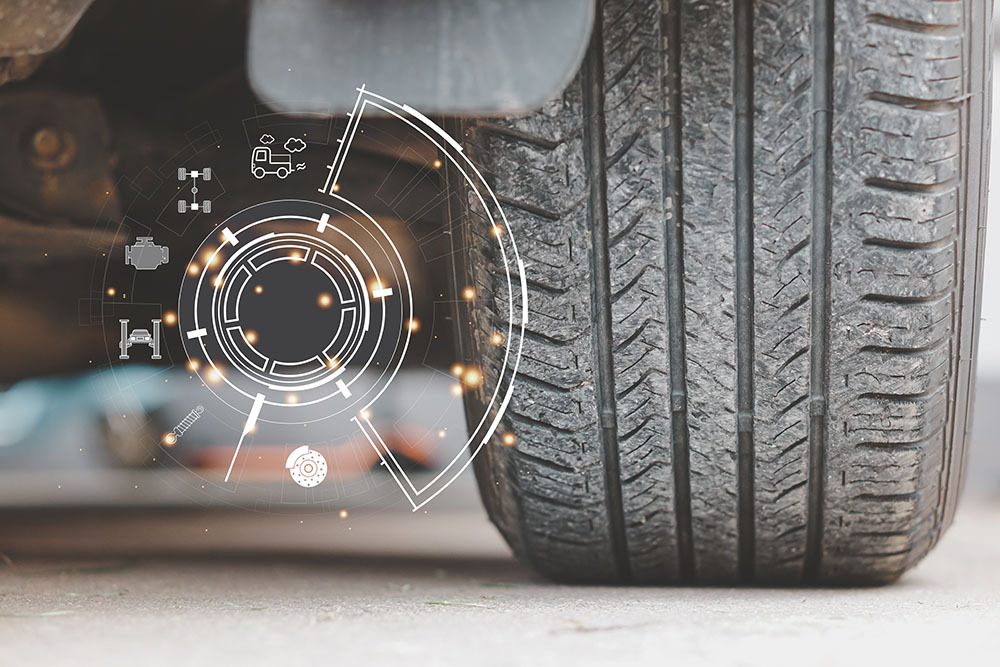 FUEL-EFFICIENT
TIRES FOR BETTER MILEAGE
Rising fuel prices mean people are paying more attention to fuel economy and looking for ways to minimize their fuel consumption. One thing that often gets overlooked is tires. Overly worn tires or ones that aren't properly inflated can consume more fuel than their newer counterparts, as well as offering a less comfortable ride.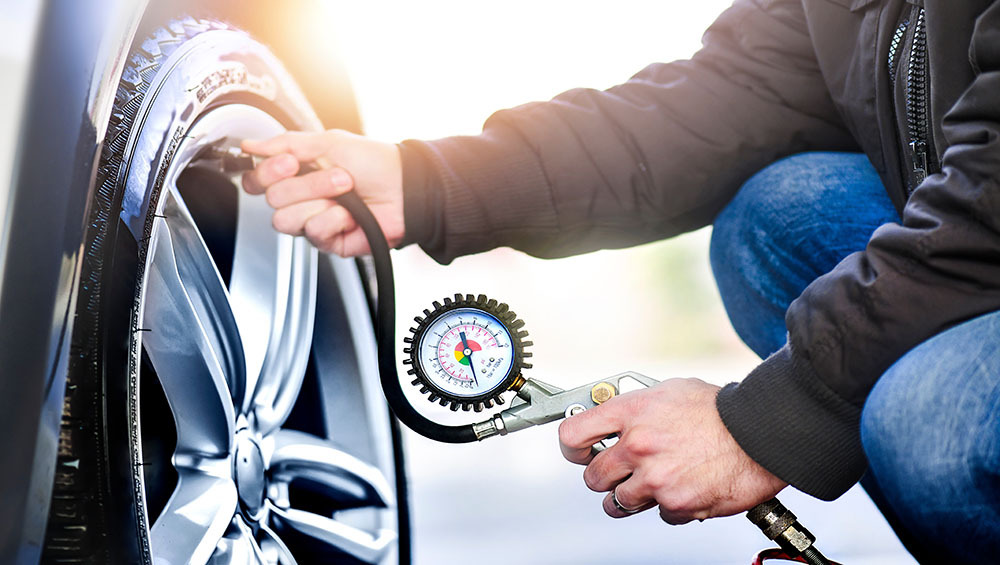 TIPS
FOR KEEPING YOUR TIRES IN TOP CONDITION
Your owner's manual will tell you the recommended pressure for your car, but the general rule of thumb is to keep it between 30-35 psi. If your tires are underinflated or over-inflated, they may not perform at their best on your road trips and could lead to uneven wear – over-inflated tires can cause bulges on the sidewall and increase the risk of punctures. Make sure you check your tire pressure regularly and adjust it as needed.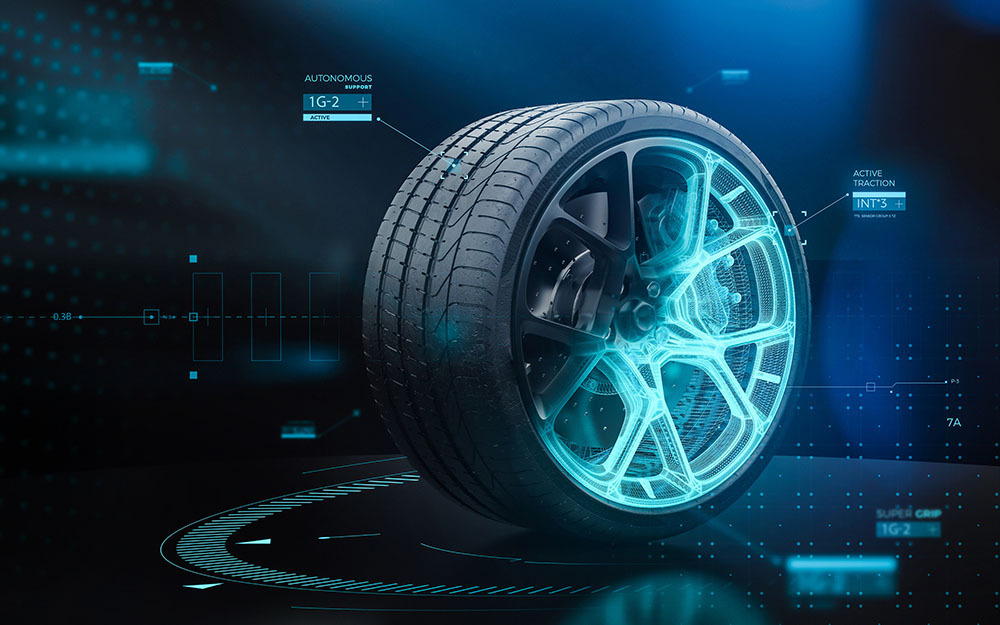 THE LATEST
TIRE TECHNOLOGY ADVANCEMENTS: A LOOK AT THE FUTURE OF TIRE INNOVATION
There is no doubt that the future of tires is almost here. The truth is that these new technologies in the automotive industry are not yet available to consumers because they are undergoing a series of tests and daily technological advancements. Tire manufacturers like Michelin and Bridgestone want the general public to expect durability, better fuel efficiency, better tire performance, less waste, etc.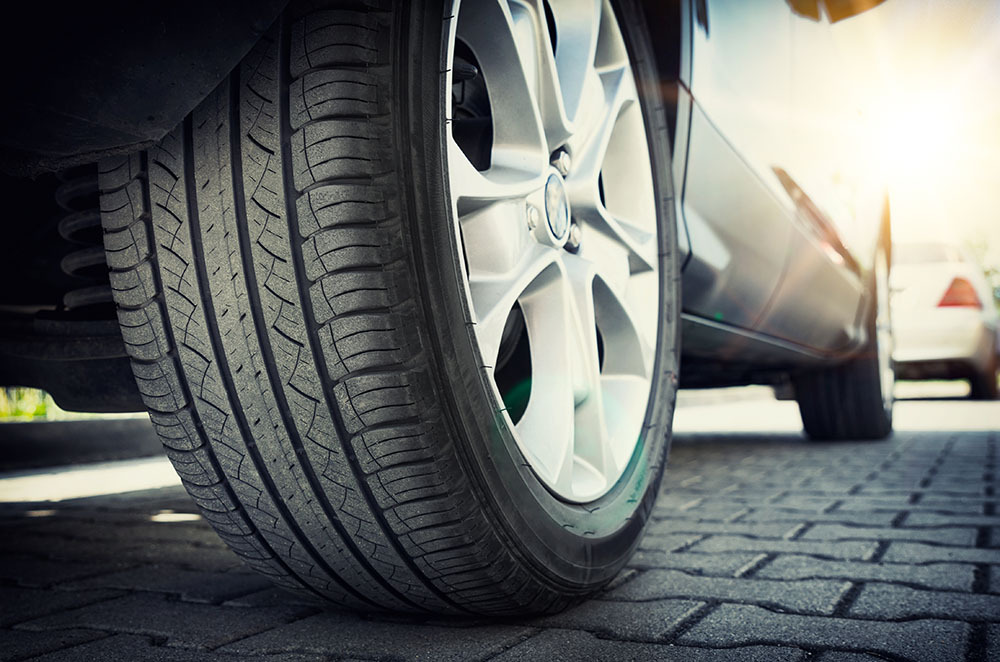 Are you looking for the best tires for your SUV or crossover? It can be difficult to determine which tires will provide the best performance, especially if you are unfamiliar with tire types and features. To help make your decision easier, we have put together a comprehensive guide focusing on some of the top brands like Michelin and Bridgestone. In addition to reviewing these great companies, we also discuss the best tires for light snow, high-performance models, and more. Keep reading to learn more about choosing the perfect tires for your SUV or crossover.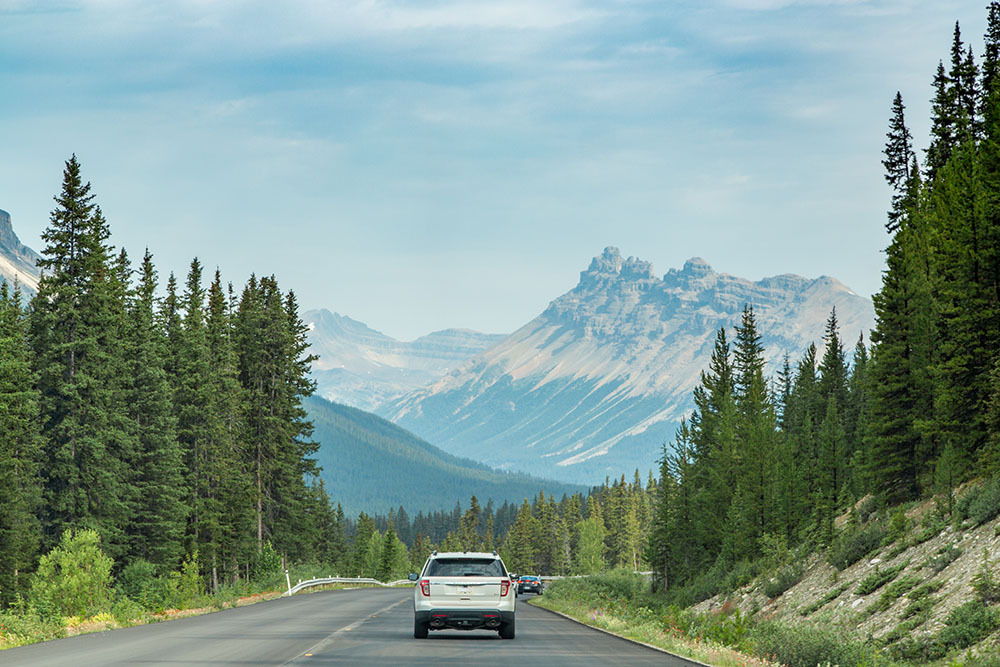 ALL-SEASON VS.
SUMMER TIRES: WHICH ARE BETTER FOR CANADIAN SUMMERS?
Canada is a vast country that's home to a wide range of climate conditions. From the long, harsh winters to the sticky, humid summers, choosing the right types of tires is essential for car safety. Every year, when the snow clears up and the days start getting longer, you'll need to swap out your winter tires for something more seasonably appropriate. If you're a first-time car owner, you might be wondering which option is best for summer in Canada: all-season tires or summer tires. Several factors go into making this decision including your local weather conditions, type of vehicle, and personal preference. Let's discuss the pros and cons of each tire to determine which one will offer the best performance for you.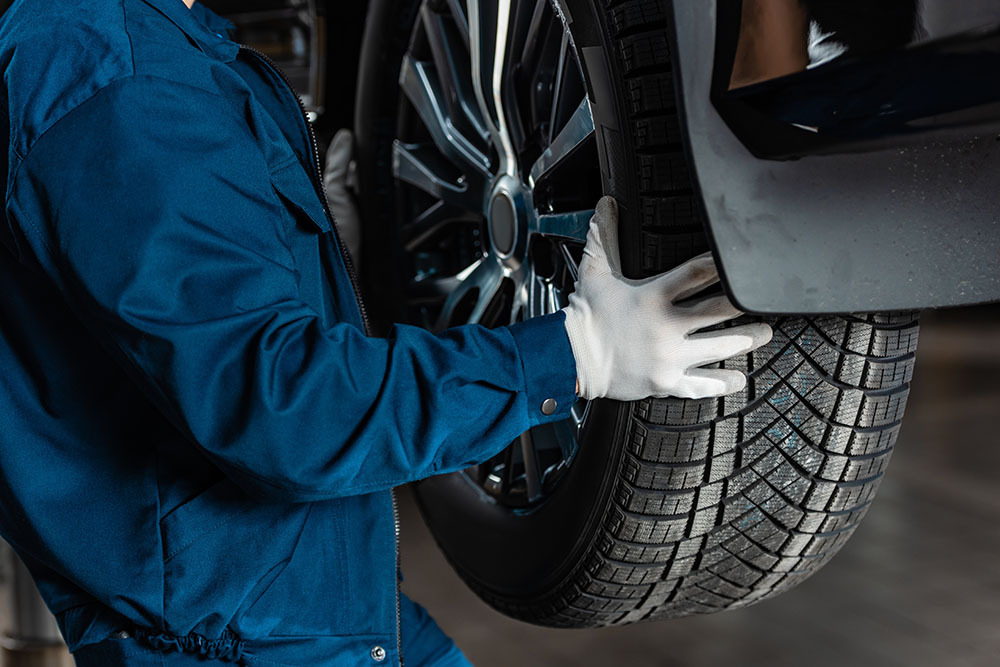 THE MOST
COMMON TIRE PROBLEMS AND HOW TO FIX THEM: A TROUBLESHOOTING GUIDE
There is no doubt that with the design of automobiles, tires have to withstand many things. For example, your vehicle's tires must endure constant contact with road surfaces that could lead to tire wear and punctures. And let's also remember that car tires typically bear the automobile's weight, making tire problems rampant in most cases. So, to avoid compromising your safety while riding on the highway or a rough road with potholes, we have compiled the most common tire problems. You will also know how to fix these tire problems, so keep reading.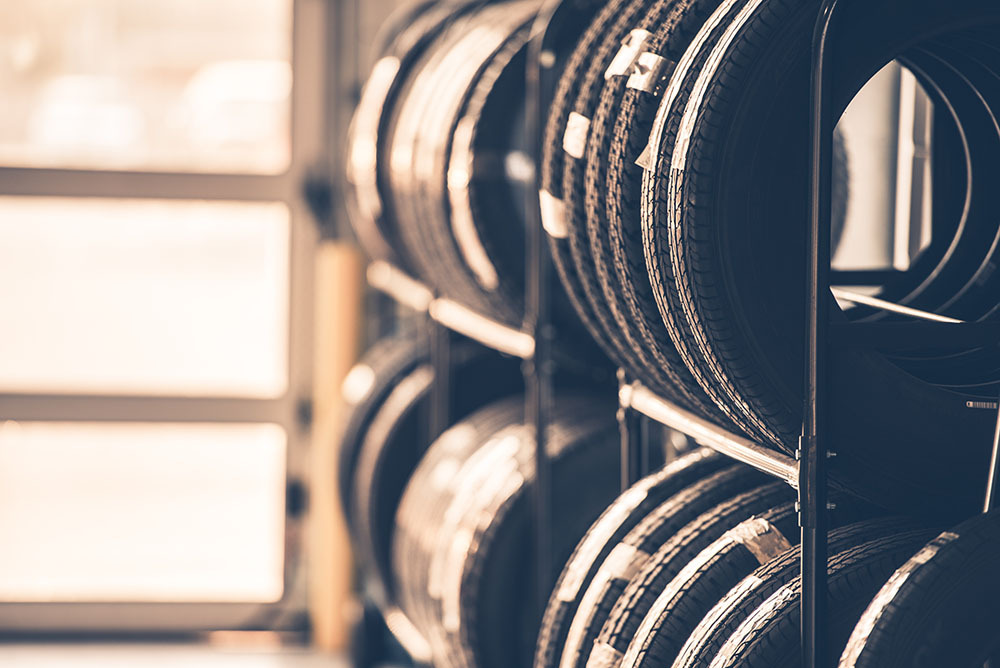 PROPERLY
STORE YOUR WINTER TIRES: TIPS FOR MAINTAINING TIRE INTEGRITY
Winter tires are essential for safe and reliable driving during the cold weather months. However, once the winter season is over, it's important to store your winter tires properly to maintain their integrity and maximize their lifespan. In this article, we will provide you with valuable tips on tire storage to ensure your winter tires are in optimal condition when you need them next season.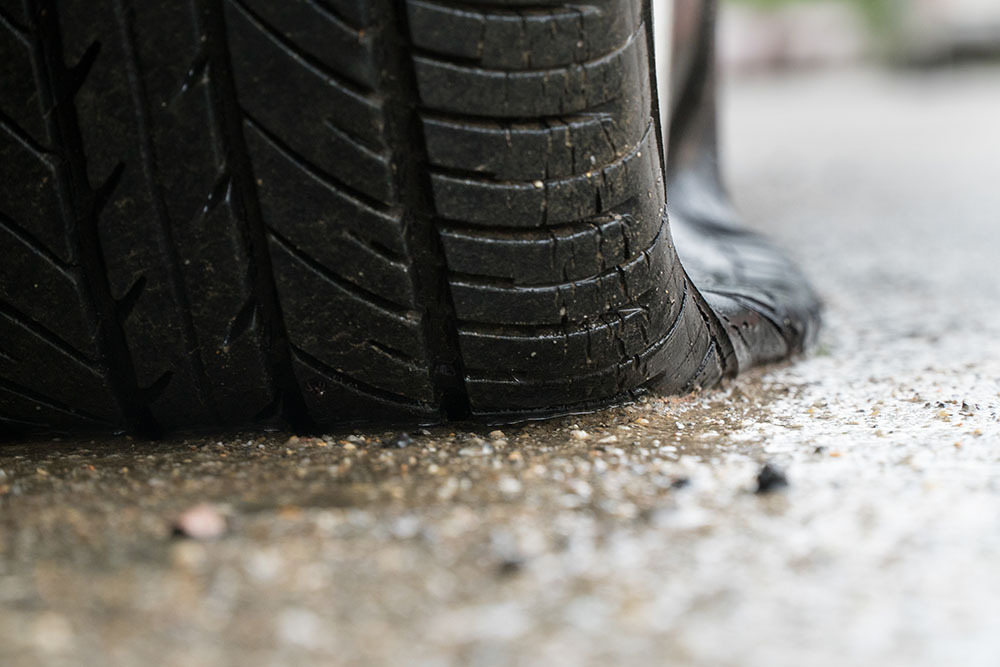 THE IMPACT
OF TEMPERATURE ON TIRE PERFORMANCE: HOW TO AVOID BLOWOUTS AND OTHER TIRE-RELATED ISSUES
Temperature can have a significant impact on tire performance, and fuel economy, and it is important to understand the potential risks associated with extreme temperatures to avoid blowouts and other tire-related issues. It is advisable to check your Tire Pressure Monitoring System (TPMS) regularly to ensure you are maintaining the recommended tire pressure.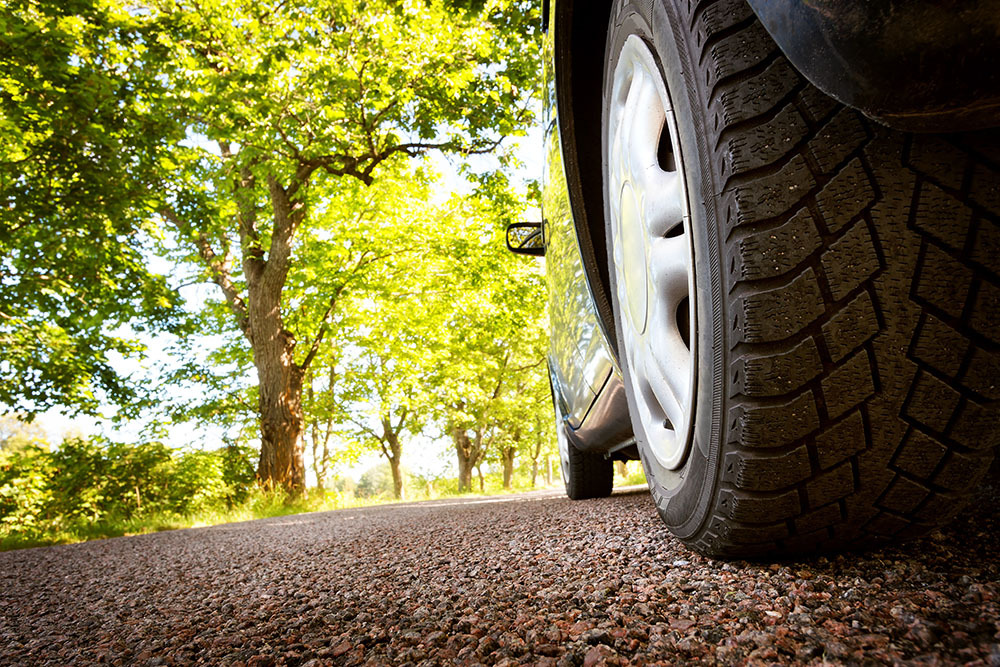 WHEN
TO SWITCH FROM WINTER TIRES TO SUMMER TIRES: A SEASONAL GUIDE FOR CANADIAN DRIVERS
Winter tires are designed to provide the best possible grip and traction in winter conditions and on icy or snowy roads in Edmonton and Saskatoon. On the other hand, summer tires are designed for improved performance and grip on dry roads in warm temperatures. When the temperature outside rises and the snow melts, it's time to switch from winter tires to summer tires. Here are a few things to consider when determining when to switch your tires: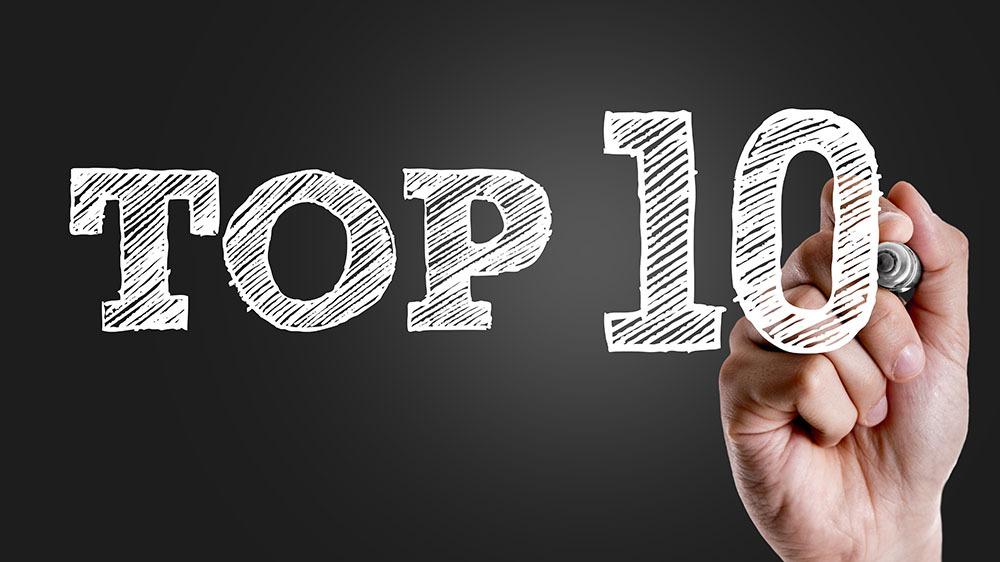 TOP 10
SUMMER TIRE BRANDS FOR 2023: A REVIEW AND COMPARISIONE
When it comes to summer tires, TreadNation in Saskatoon has some best tire brands that you can purchase at a lower cost. We even offer tire storage and free tire rotation. Let's take a look at the best summer tire brands.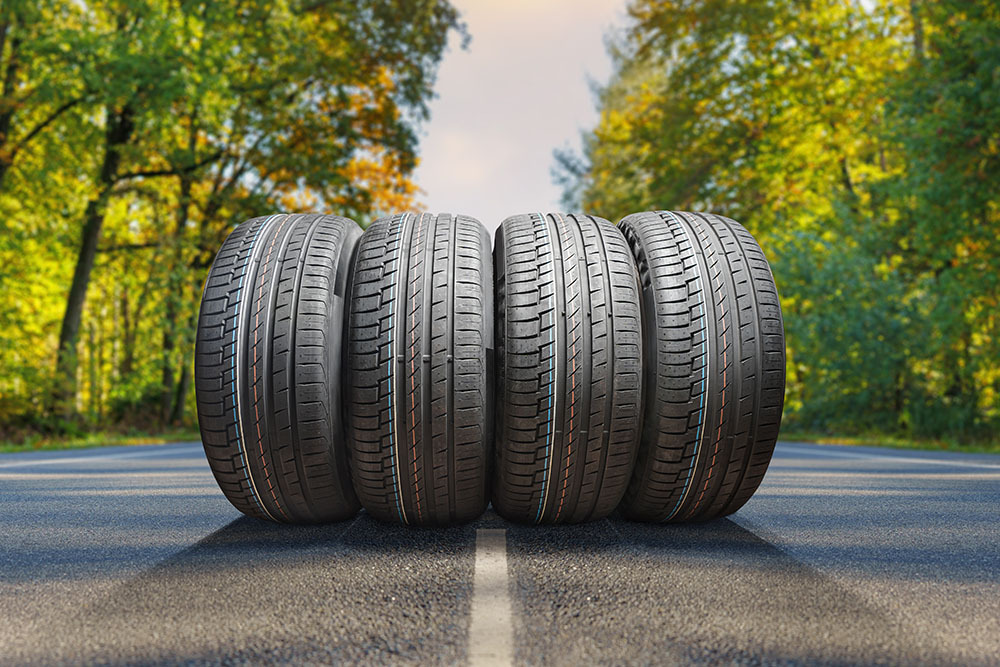 THE
BENEFITS OF SWITCHING TO SUMMER TIRES
The snow is melting. The air is getting warmer. The birds are coming back from the south. In other words, it's that magical time of year when you switch from winter tires to summer tires. OK, so maybe it's not that magical. In fact, switching tires can be a real chore. Some of you are already complaining, "What's the point? As soon as the summer months are over, I'll just have to put the winter tires back on again!" There is, though, not just one good point to changing your tires, there's a bunch of them.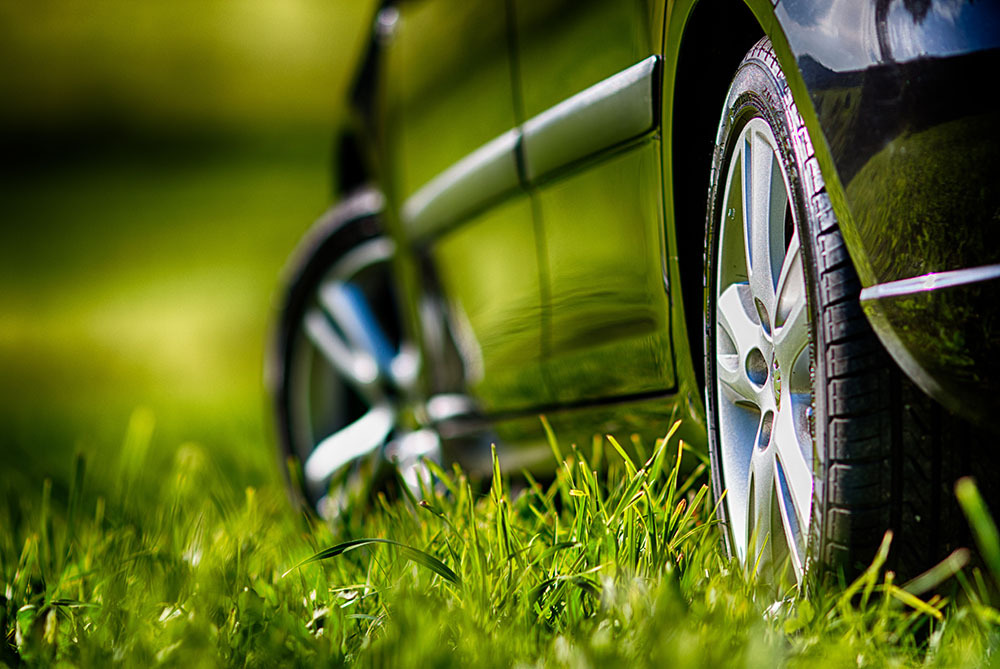 A GUIDE
FOR CHOOSING THE RIGHT SUMMER TIRES FOR YOUR VEHICLE
Summer is a great time for road trips and outdoor adventures, but before you hit the road, it's important to make sure your vehicle is equipped with the right tires. Choosing the right set of tires can make a big difference in your driving experience, including better handling, improved fuel efficiency, and increased safety. In this tire buying guide, we'll provide you with everything you need to choose the right summer tires for your vehicle.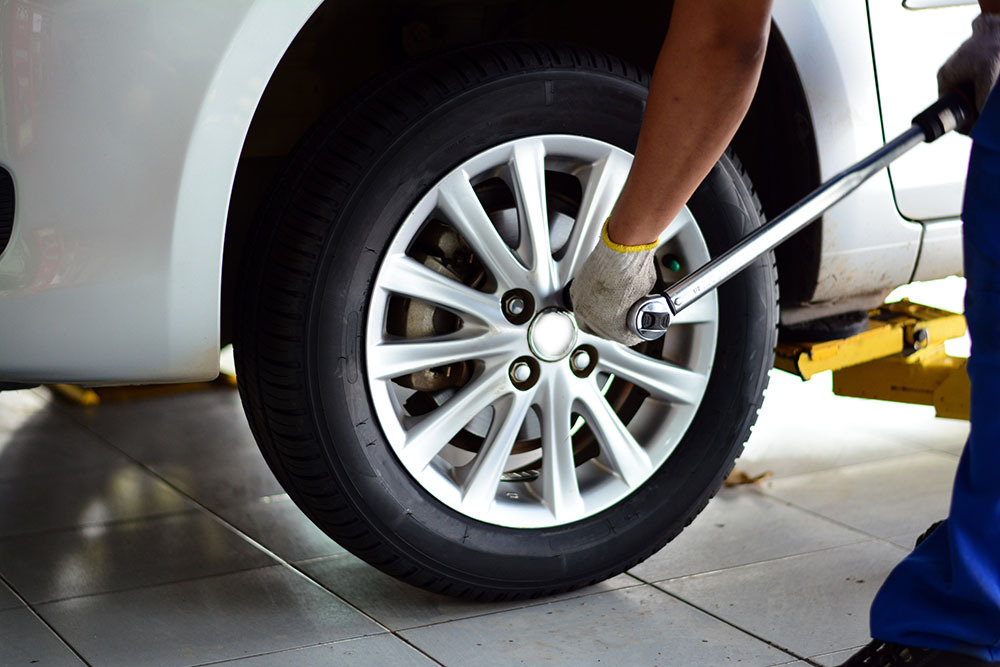 WHY
YOU NEED TO TORQUE YOUR CAR TIRES
As a vehicle owner, it is important to take the necessary steps to ensure your safety on the road. This includes torquing your tires to the specified torque every time they are installed or replaced. By using a calibrated torque wrench and following the manufacturer's recommended torque settings, you can help prevent wheel separations and other potentially dangerous situations.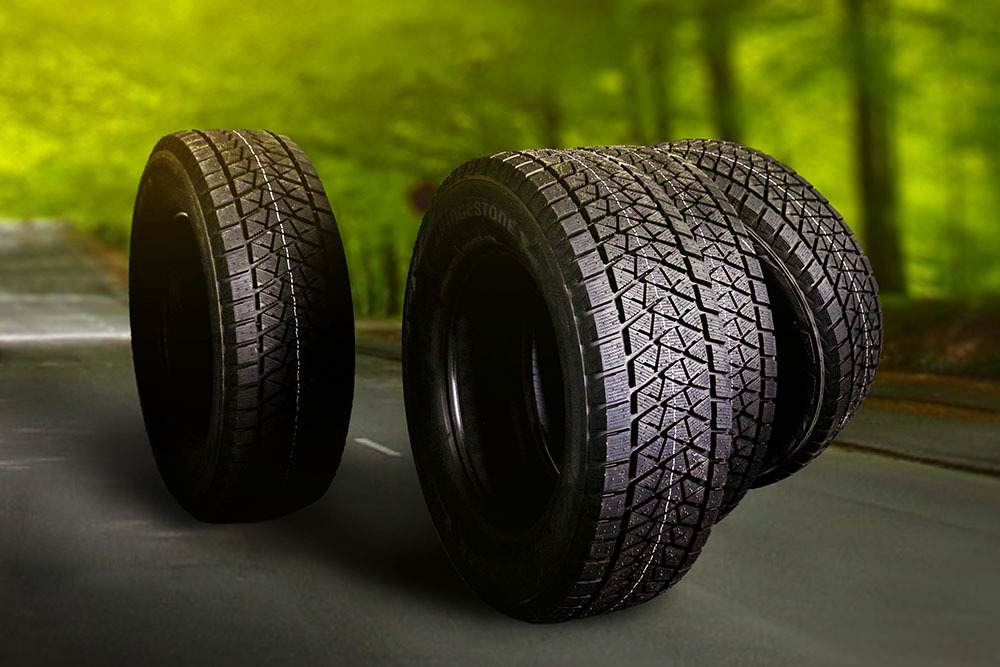 ALL-SEASON
TIRES VS. SUMMER TIRES
The months are finally warming up. Car owners and drivers are thinking of replacing their winter tires. If you are an average driver, you might not know what to choose between all-season and summer tires. Both are designed and manufactured to serve different functions in various road conditions. They can impact your driving experience differently, especially regarding performance, ride comfort and safety.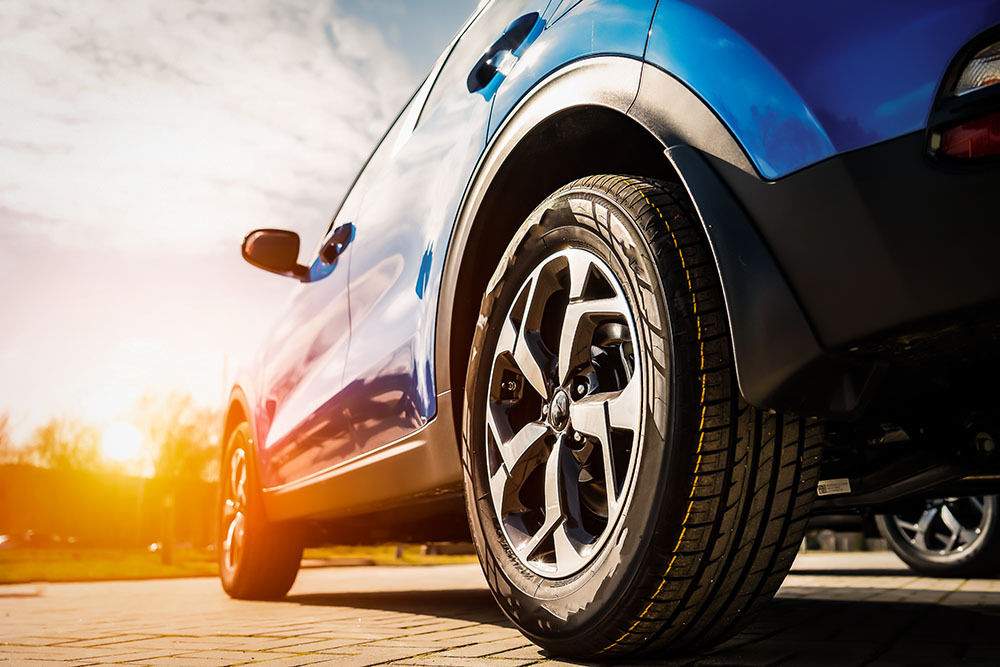 BEST
TIME TO CHANGE FROM WINTER TIRES TO SUMMER TIRES
Every car owner should have two sets of tires to match different weather conditions. For example, you can buy all-season tires and summer tires to seamlessly deal with the freezing Canadian winters and hot summers in provinces such as Saskatchewan and Alberta. Remember, the right tires can improve your safety in Canadian cities such as Edmonton, Quebec, and Ontario.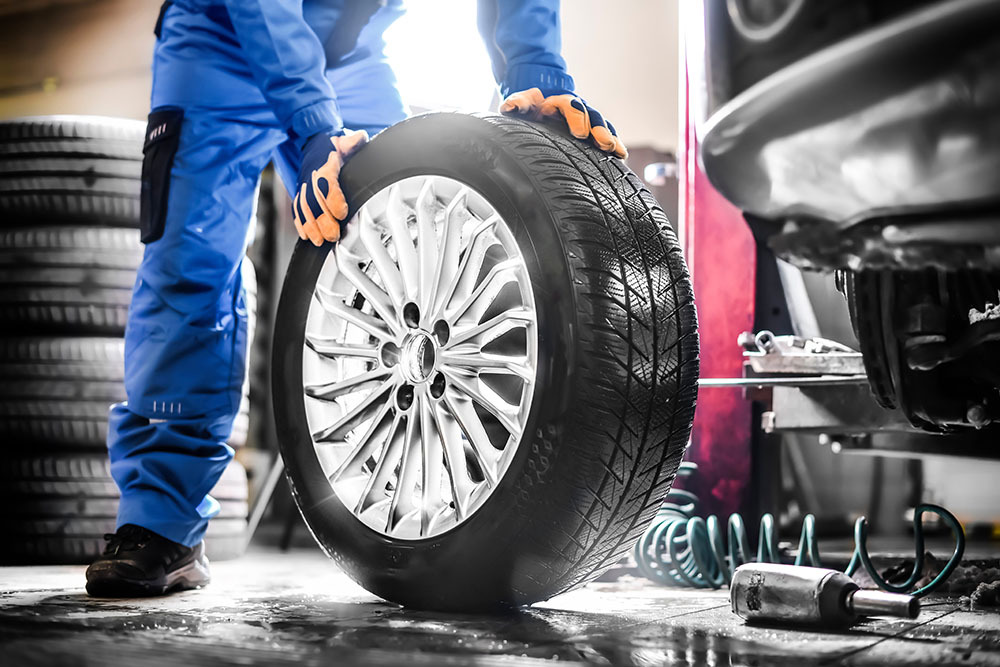 WHY
IT'S BETTER TO CHANGE YOUR TIRES AT A DEALERSHIP OVER A BIG BOX STORE
The lifespan of tires is pretty long; a good set can last up to six years or serve its purpose efficiently for 36,000 to 75,000 miles. The tires' quality and their exposure to wear and tear determine how long they can go. Nevertheless, never use your tires for longer than ten years, no matter how good they look.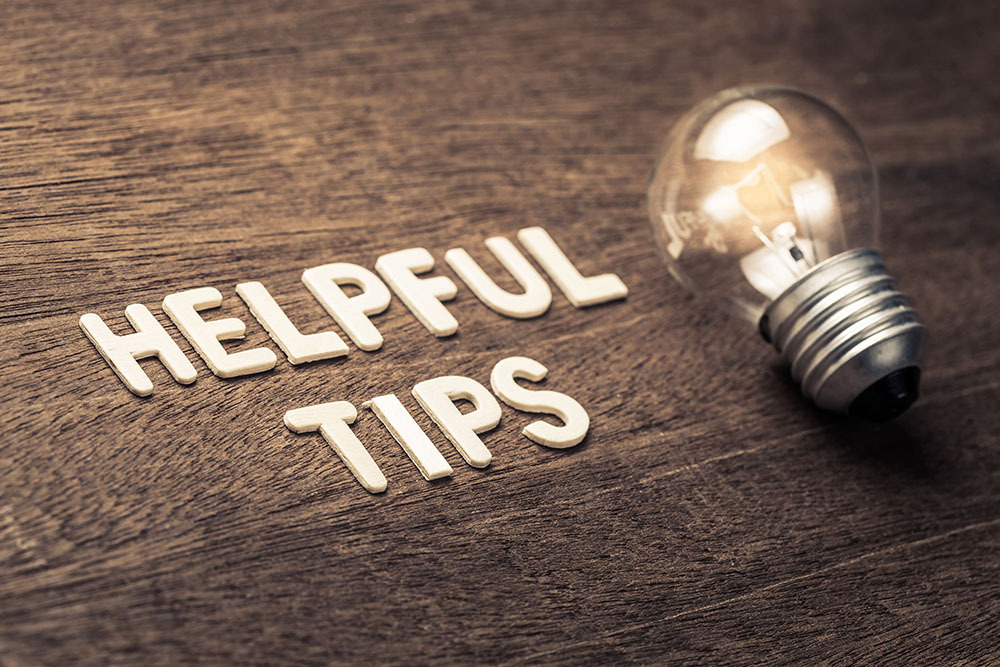 TIPS
FOR SPRING TIRE CHANGEOVER
Spring is here, and we can finally have our car windows down as we drive. But before you start planning for your next camping trip, it is wise to remove your winter tires in readiness for the warm weather. As a rule of thumb, the best time to change your set of winter tires is when the temperature outside remains 7 degrees Celsius or higher.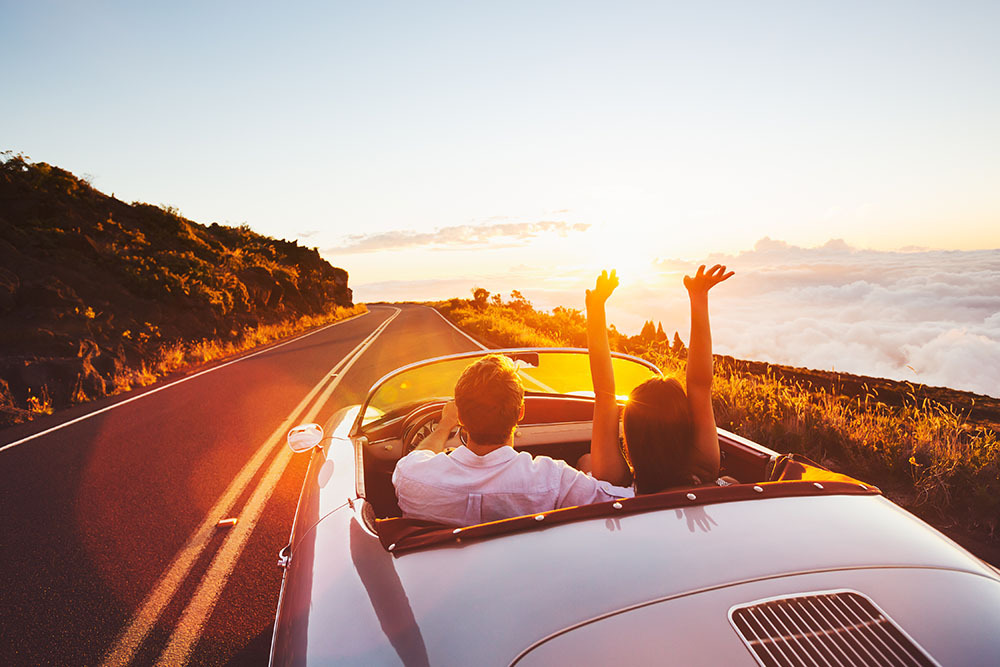 WILL
WINTER TIRES WORK IN SUMMER?
There is a reason winter tires should only be used during winter seasons. These tires are uniquely made of flexible rubber compounds that get hard and stiff in warmer temperatures. They also have special tread designs for better traction on icy and snowy roads. The tread helps them to move excess slush or snow, and the sipes allow the snow to pack on the tread blocks and allow better traction.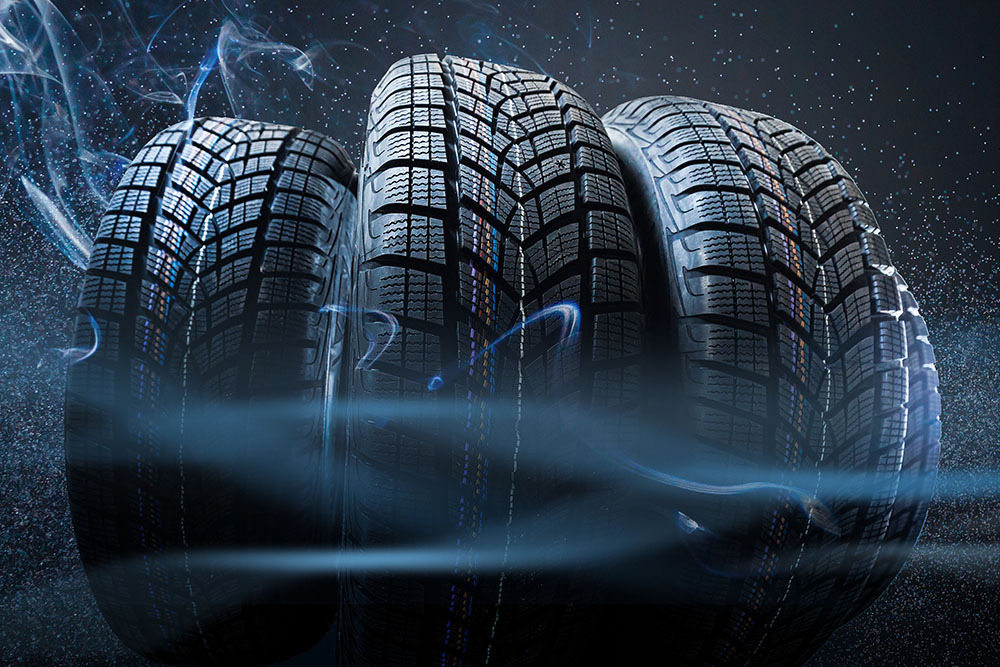 WHAT
IS WINTER TIRE SPEED RATING?
When choosing new tires for your passenger car, there are various factors to consider, and the tire's speed rating is one of them. All vehicle tires have a speed rating. A tire speed rating impacts the safety and handling of vehicles. Apart from knowing the all-season tire rating speed, you must also understand winter tire rating. Below is a quick guide on the rating of winter tires.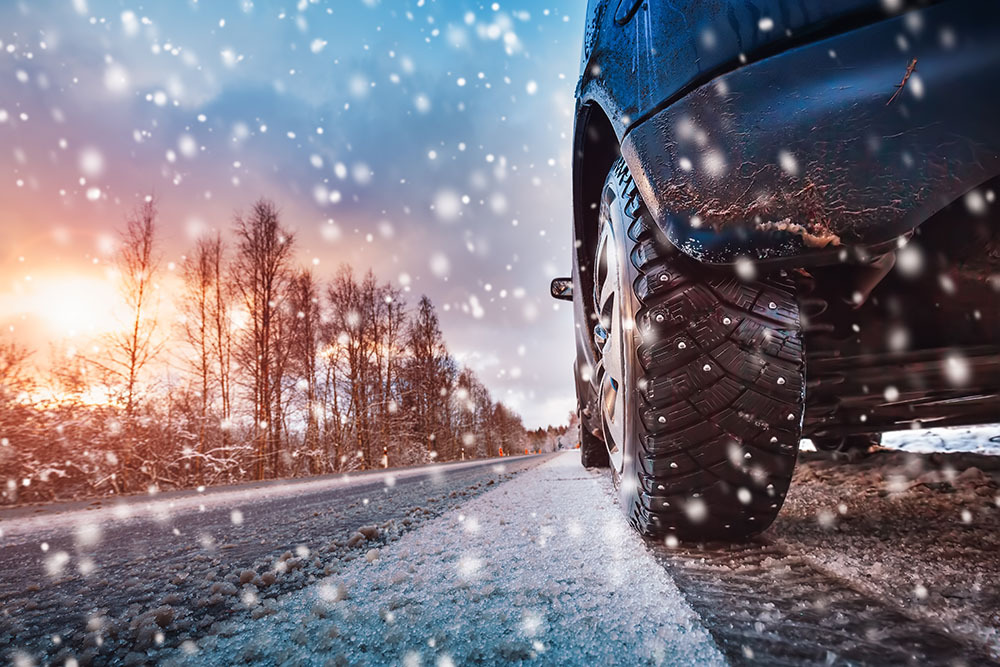 WHICH
WINTER TIRES LAST THE LONGEST?
If you live in Canada, you understand that roads can be too snowy and icy during winter, making moving around more challenging. That is why you should use winter tires to stay safe while driving on ice and snow. The best winter tires should have excellent braking performance, high traction, and resistance to temperature changes. They should also improve your car's fuel economy and increase safety performance.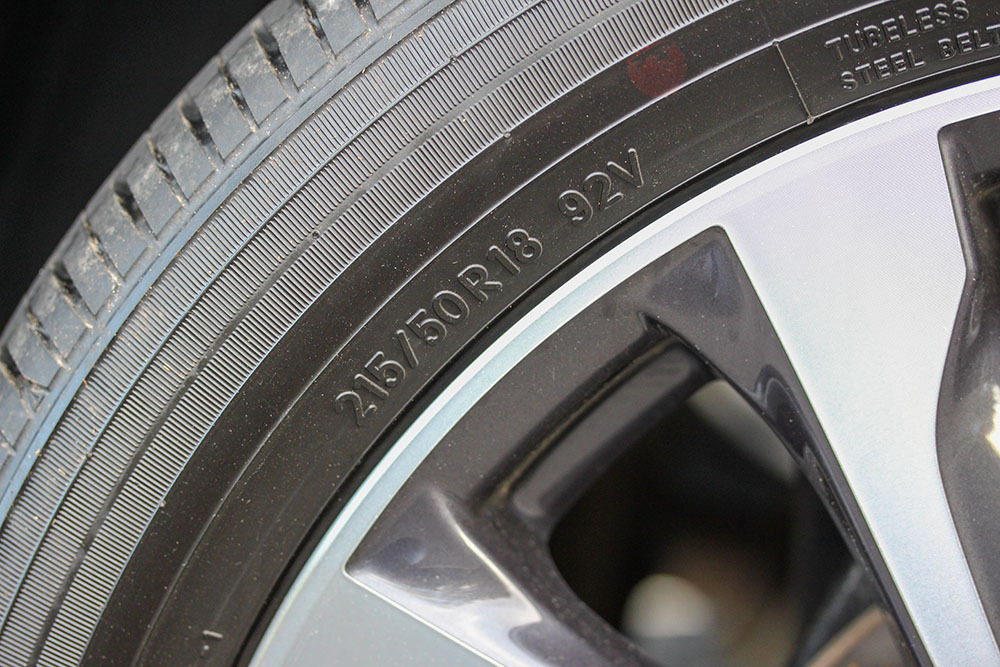 HOW
TO FIND AND READYOUR TIRE SIZE
Installing the right tires is vital to enhance your vehicle's performance and safety. As a car owner, you must understand which tire type suits your vehicle, especially when finding new tires. Meaning you have to know how to find and read your car tire. If you know your tire size and want new tires, get a quote from us. Learn how to find and read a tire size.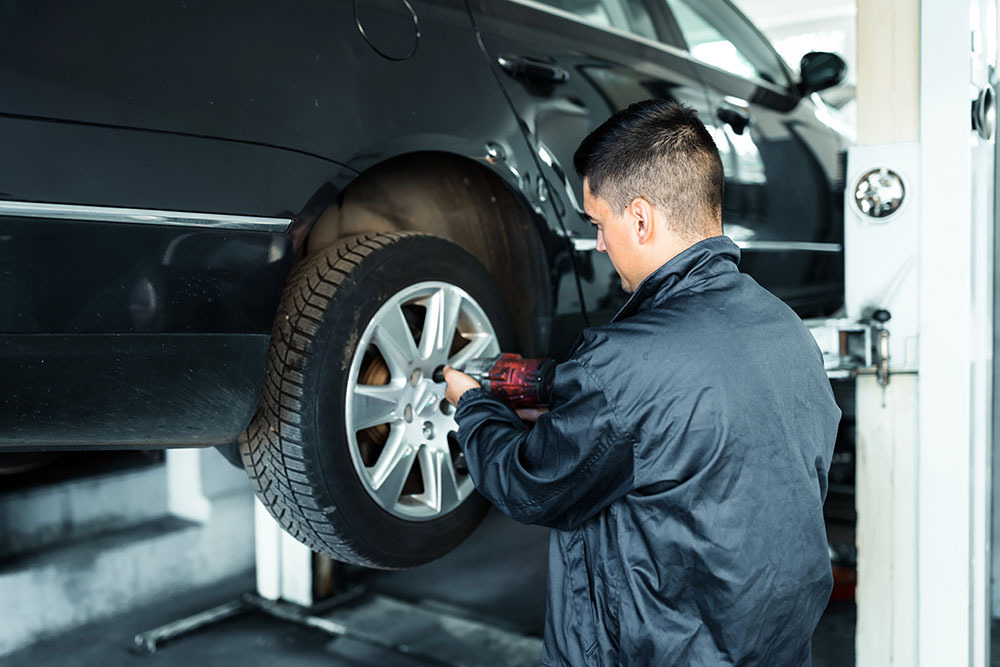 DO
I NEED TO BALANCE MY TIRES EVERY TIME I SWITHCH THEM OVER?
Have you recently switched your tires over? Or are you planning to rotate them soon? If so, are balanced tires required for each tire change? Let's take a look in more detail.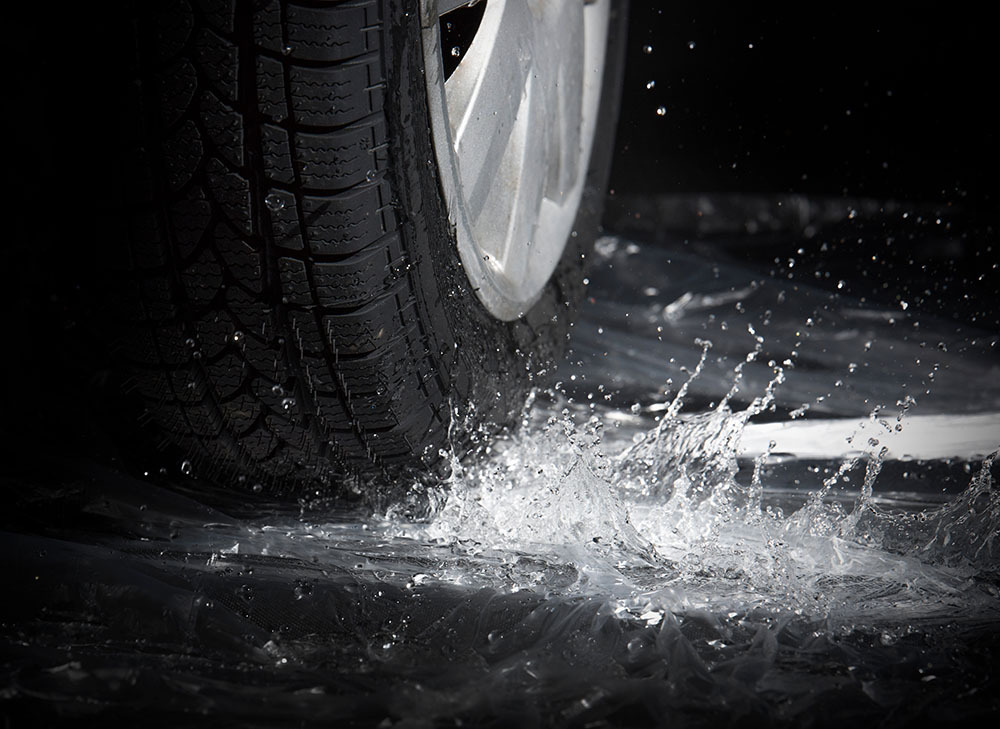 ARE
WINTER TIRES OOD IN RAIN?
When selecting snow tires for your vehicle, be sure to do your research and find the right tire brand for you. Michelin, Goodyear, Pirelli, and Bridgestone are all reputable winter tire brands that provide excellent winter performance in wet and icy conditions.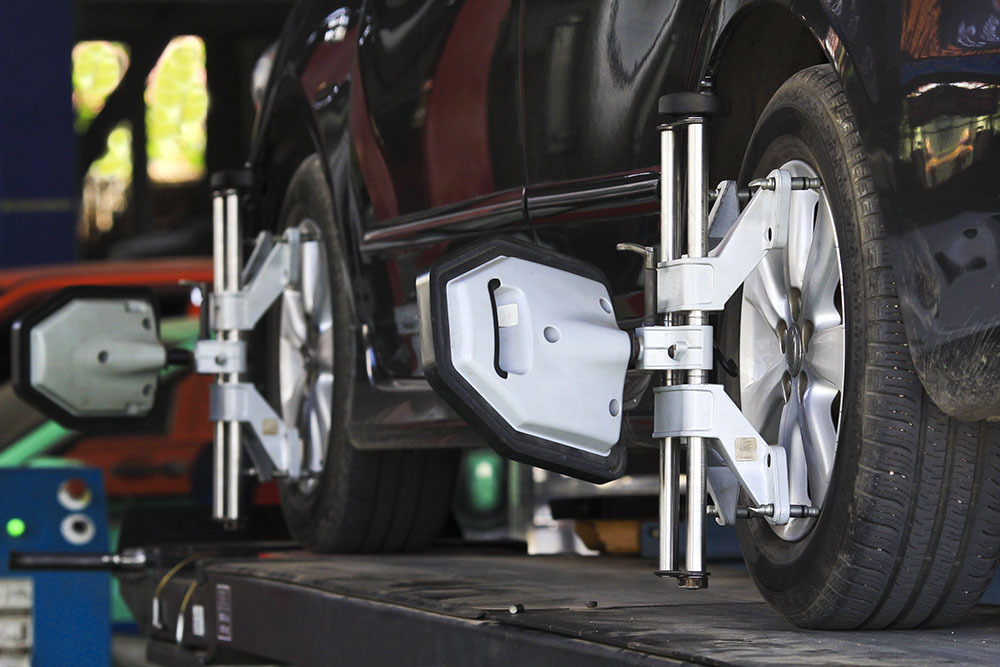 WHEEL
ALIGNMENT, IS IT REQUIRED EVERY YEAR?
Wheel alignment is a regular maintenance task if you want to keep your vehicle in a good state. If not taken care of, misalignment may occur, and it may cause vehicle damage or even cause an accident. As a car owner, you must regularly have your wheels realigned at a service center or auto repair shop after the recommended two to three years. Below is a comprehensive overview of alignment.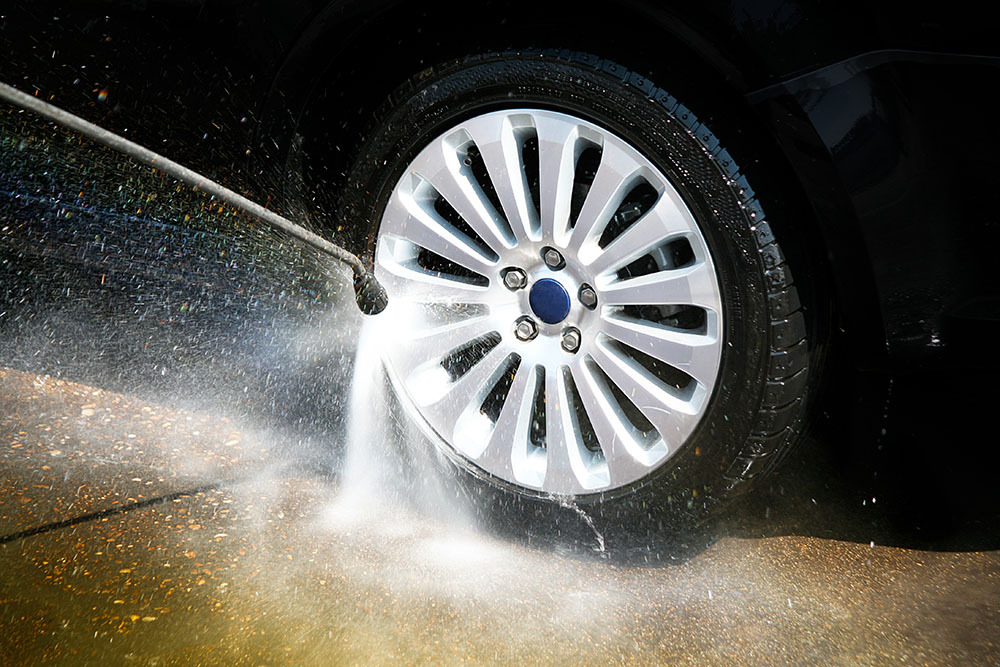 HOW
TO SUPER CLEAN YOUR WHEELS
Because of their positioning, car wheels collect more dirt than other car components. Besides the usual dust, road grime and grease also gather on car wheels. The brake dust also leaves a dark brown build-up on the wheels.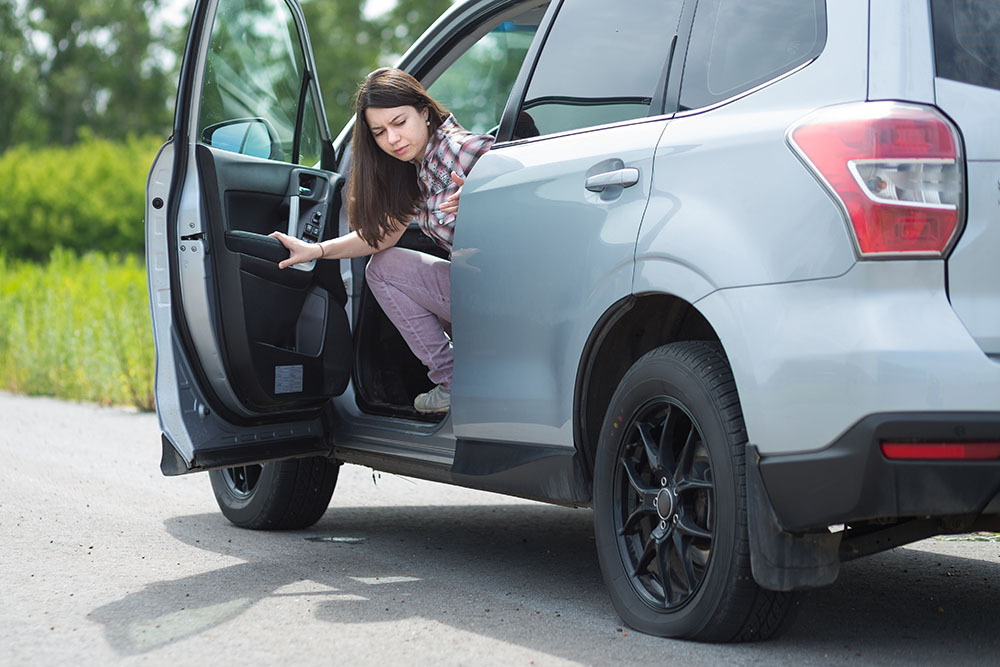 HOW
CAN YOU DRIVE WITH A FLAT TIRE?
It's always a nightmare for a car owner to hear of a flat tire. As scary as it may sound, double the trouble if you don't have a spare tire. You can also triple it if you are in an emergency or hurry to attend a meeting.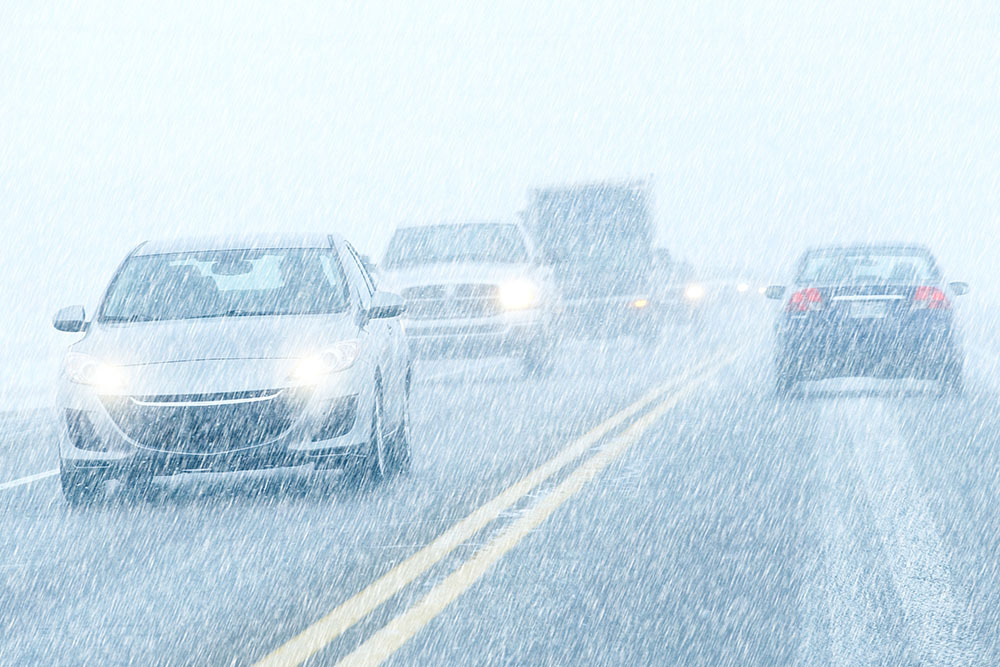 Most Canadians understand that winter driving is challenging and dangerous, even for seasoned drivers. On those slippery roads and bad weather, your driving conditions are compromised, requiring vehicle adjustment and tested winter driving tips.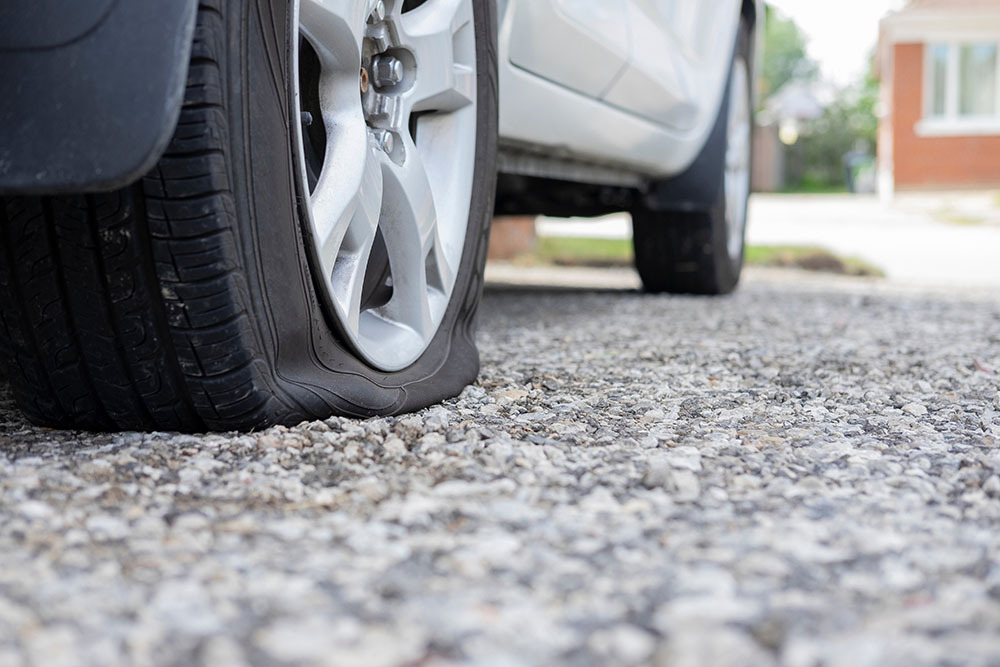 WHAT
SHOULD YOU DO WHEN YOU GET A FLAT TIRE?
It's not comforting to find yourself on the road with a flat tire. Although changing a tire is not difficult, it is a skill that every driver should master. Flat tires can be caused by anything as simple as glass or screws on the ground or by driving through deep potholes. It can also happen at any time of day or night. When you get a flat tire, you may not always get roadside assistance. Therefore, we've compiled a list of things to do if you have a flat tire.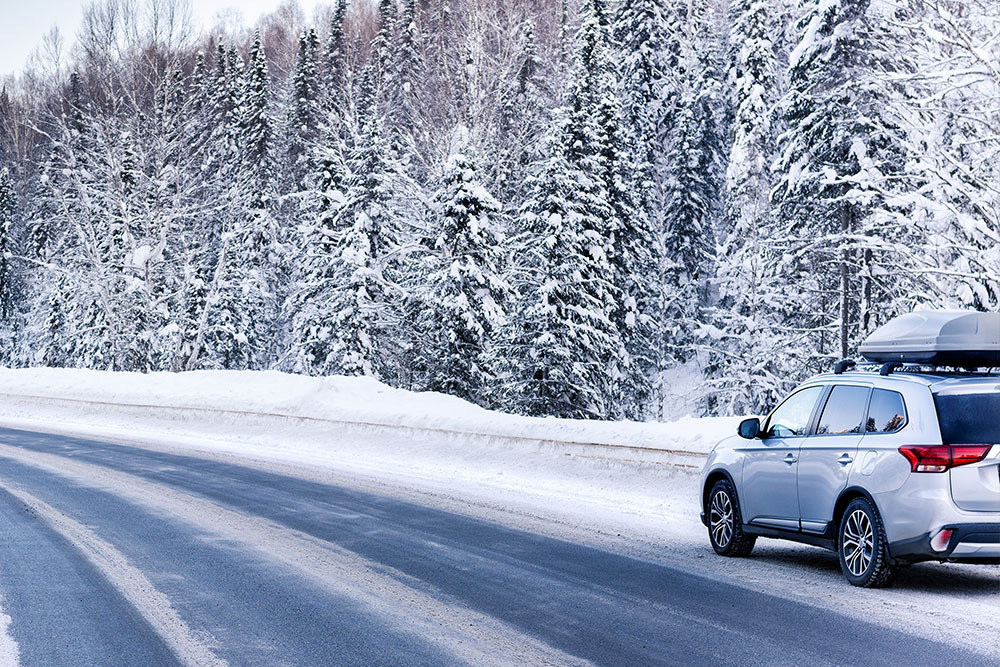 DIFFERENCE
BETWEEN SNOW TIRES AND ICE TIRES
Winter is here, time to get the tools out and gear up for the winter conditions. You have been assigned the duty of snow plowing but you don't have the right tires for winter driving.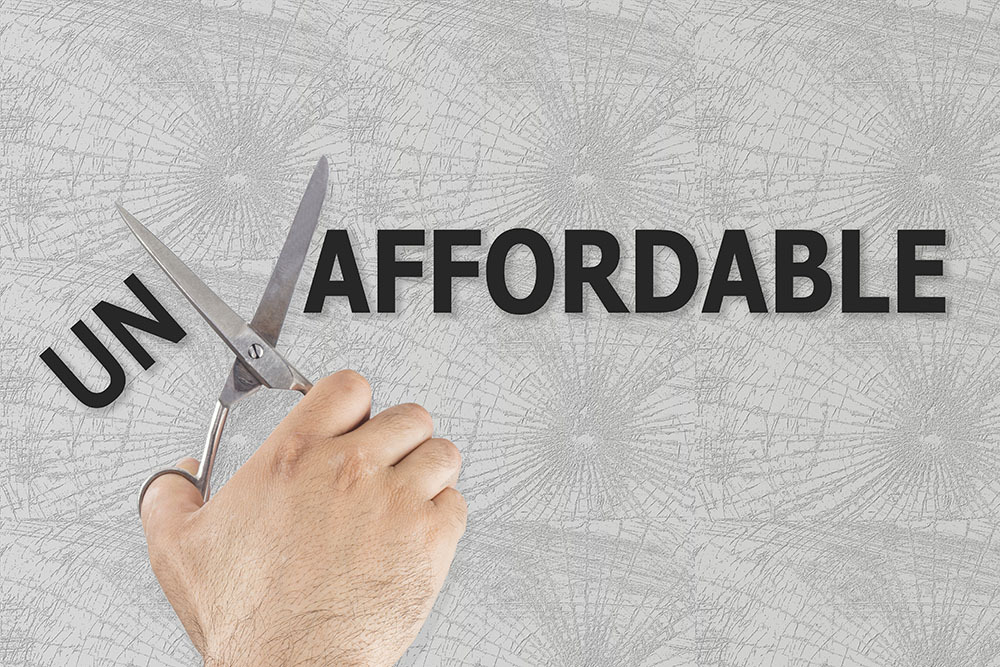 BEST
AND MOST AFFORDABLE TIRE BRANDS IN CANADA
Consumer reports publish their ratings for SUVs and small car tire performance yearly. Their reports are very beneficial to car owners because they show the best and various performance details like tread life, snow performance, braking, and general handling. As such, you will learn that the most popular tire brands top the list of the most-rated tires in terms of affordability and performance. Examples are Michelin, Continental, Pirelli, Bridgestone, and others. Below are the most affordable tire brands in Canada you can purchase for different seasons and purposes.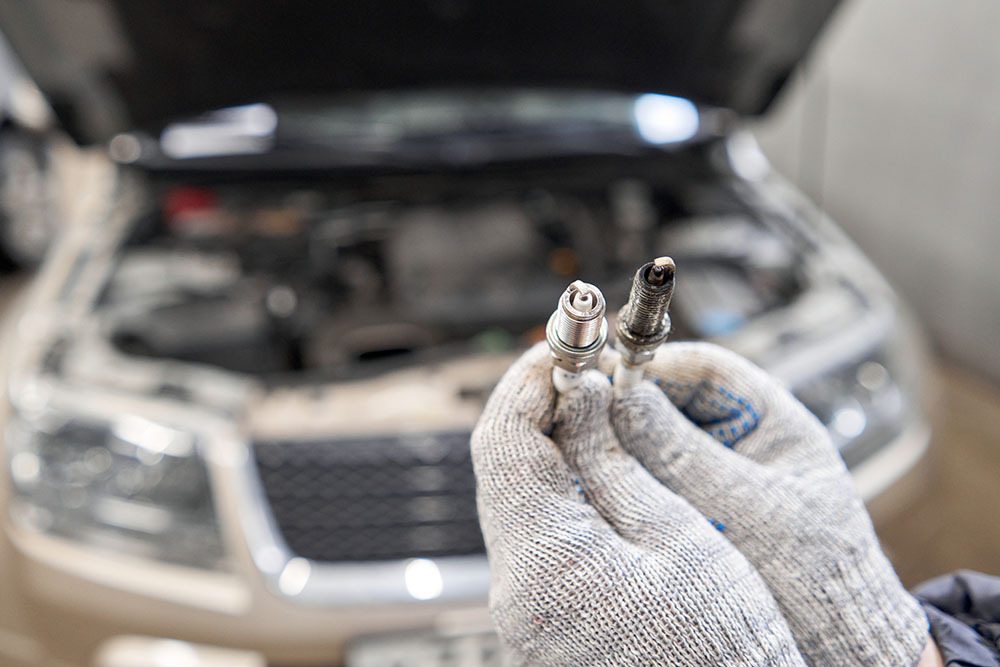 WHAT
ARE SPARK PLUGS AND HOW OFTEN DO YOU NEED NEW ONES?
Spark plugs are a small yet significant part of a vehicle's engine, that play a significant role. If your vehicle has bad spark plugs, it may fail to even start or run. Read on to find out more about spark plugs, their importance, types of spark plugs, their life span and how to know when and if you need a spark plug replacement.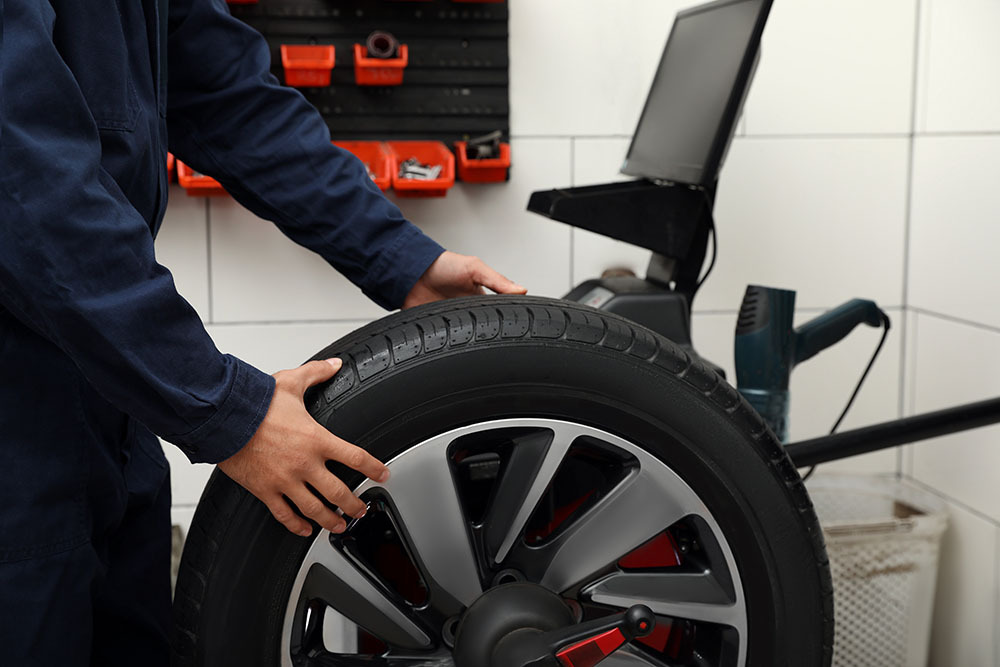 TIRE
BALANCING AND WHY IT'S IMPORTANT
What is tire balancing, and what purpose does it serve? This term is often confusing and used interchangeably with the term wheel alignment; however, the two are different. Read on for more clarification on the difference between wheel balancing and wheel alignment, as well as their significance.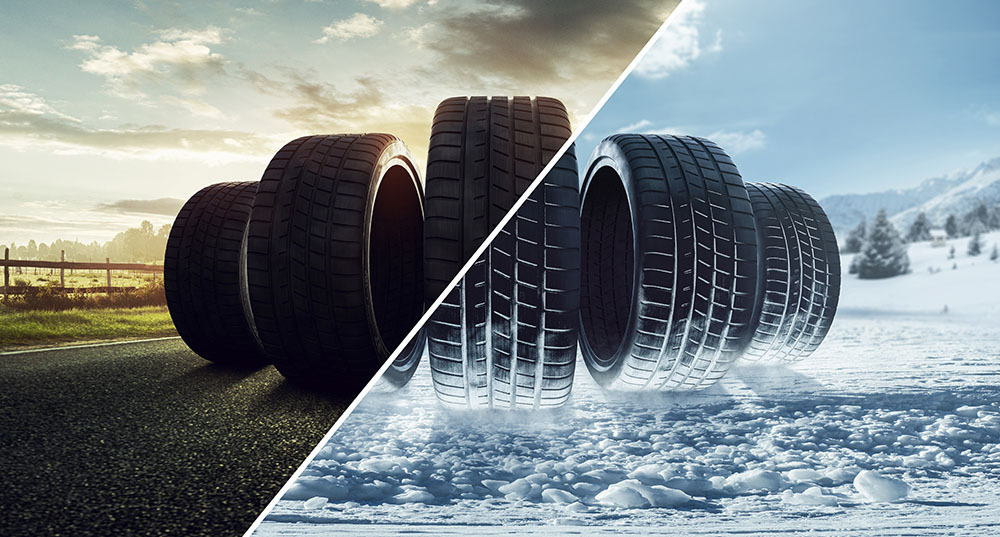 CAN
I LEAVE MY WINTER TIRES ON ALL YEAR?
Many people ask if they can leave their winter tires on year-round. The answer is yes, you can leave your winter tires on during the summer months. However, it is not recommended to do so. Winter tires are designed for cold weather and snow conditions. They are not made for warm weather and can wear out quickly in the summer heat. Summer tires are a better choice for warm-weather driving. They are the type of tires made to withstand heat and provide better traction in warm weather conditions.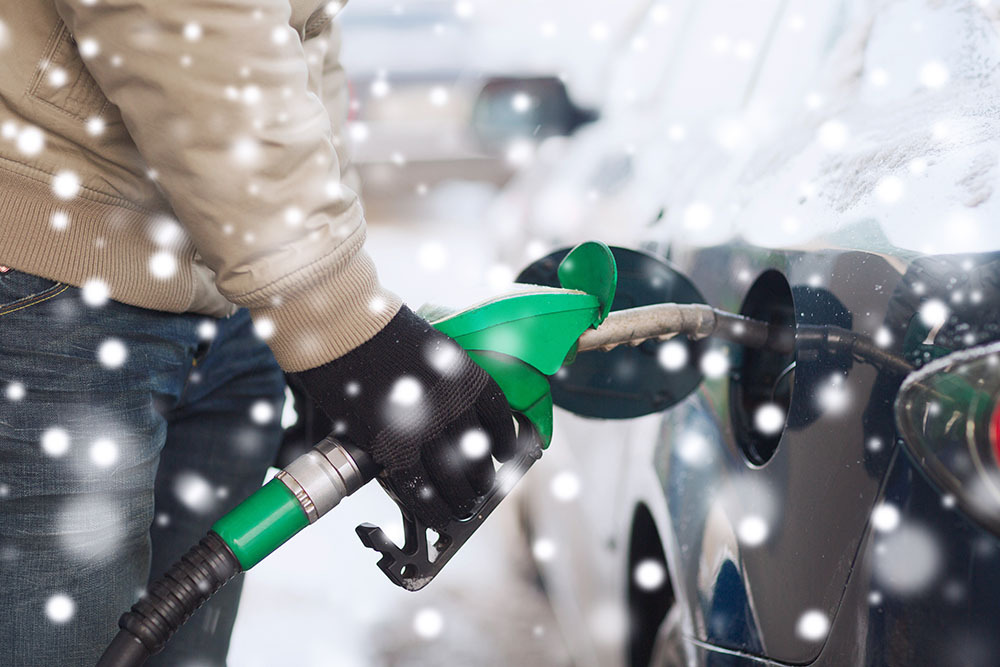 DO
SNOW TIRES AFFECT GAS MILEAGE ?
A variety of factors can impact your car's gas mileage. Your car's wheels and tires might not appear to have any bearing on your fuel economy at first glance; nevertheless, based on tire type, maintenance, and tire size, there is a direct effect on the overall life and efficiency of the vehicle. Tire condition significantly impacts the mileage covered for a single gas tank. Tire-related issues account for 20% to 30% of a vehicle's total fuel consumption and 24% of the CO2 emissions produced by road vehicles. Rolling resistance is the primary factor determining how tires impact a vehicle's fuel efficiency.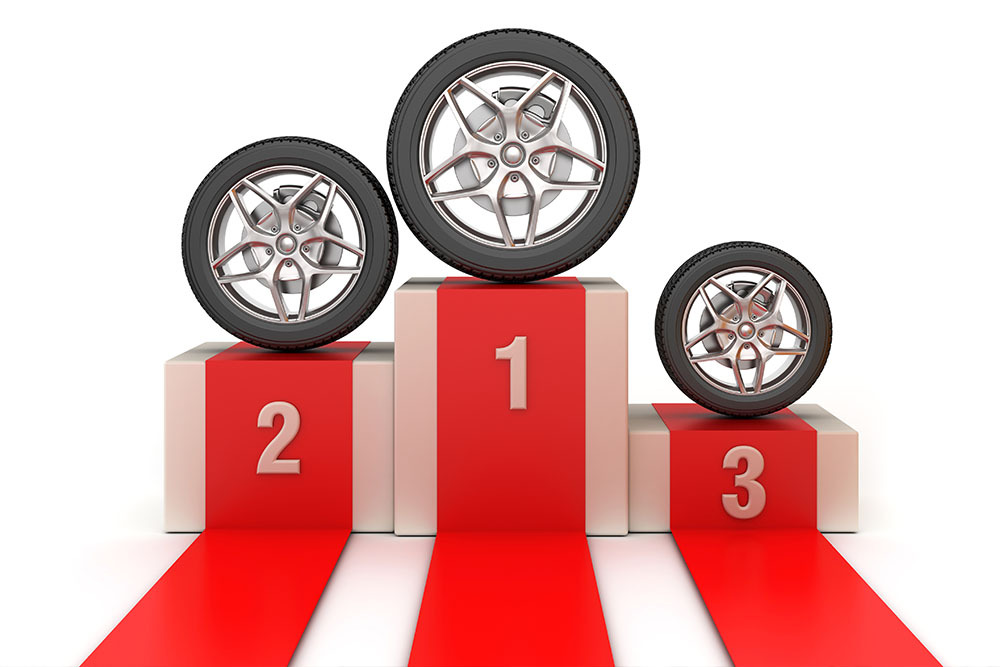 TOP
FIVE TIRE BRANDS WE CARRY AND WHAT THE BEST PERFORMING TIRES ARE
At TreadNation, we have the right tires for your needs. We have summer tires, winter tires, off-road tires, truck tires, and SUV tires and you can buy them all at cost. The top five tire brands we carry are Michelin, Continental, Bridgestone, Pirelli, and Yokohama tires.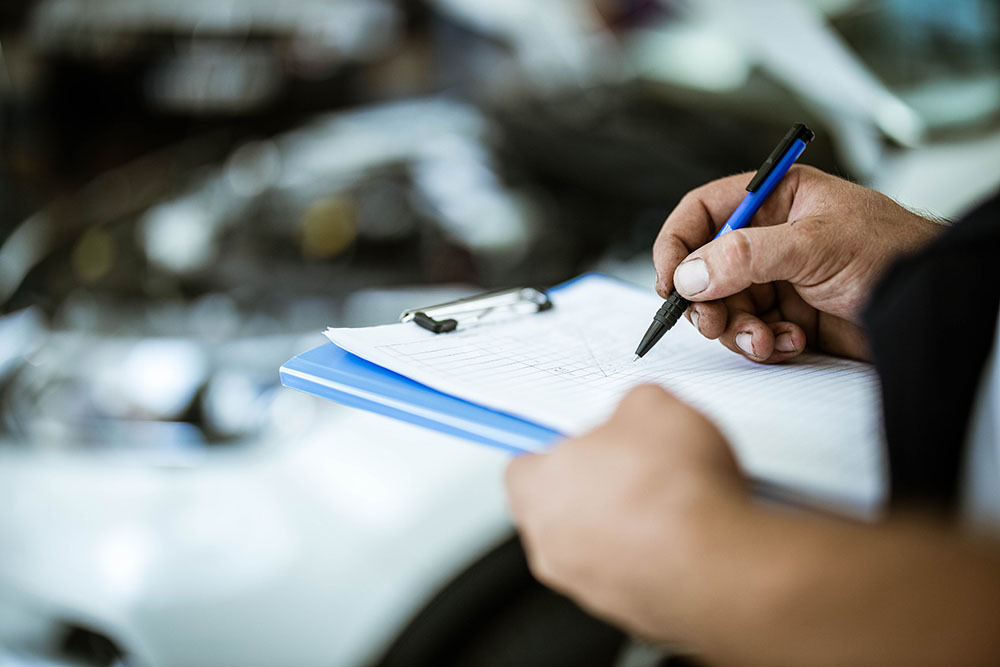 FOLLOW
SGI SAFETY CHECKLIST
What Is SGI Inspection?
SGI Inspection is a method of safety inspection that is effective at assessing whether a vehicle meets safety standards before each use. Saskatchewan drivers need to do SGI inspections in compliance with the law to ensure their safety and that of other drivers.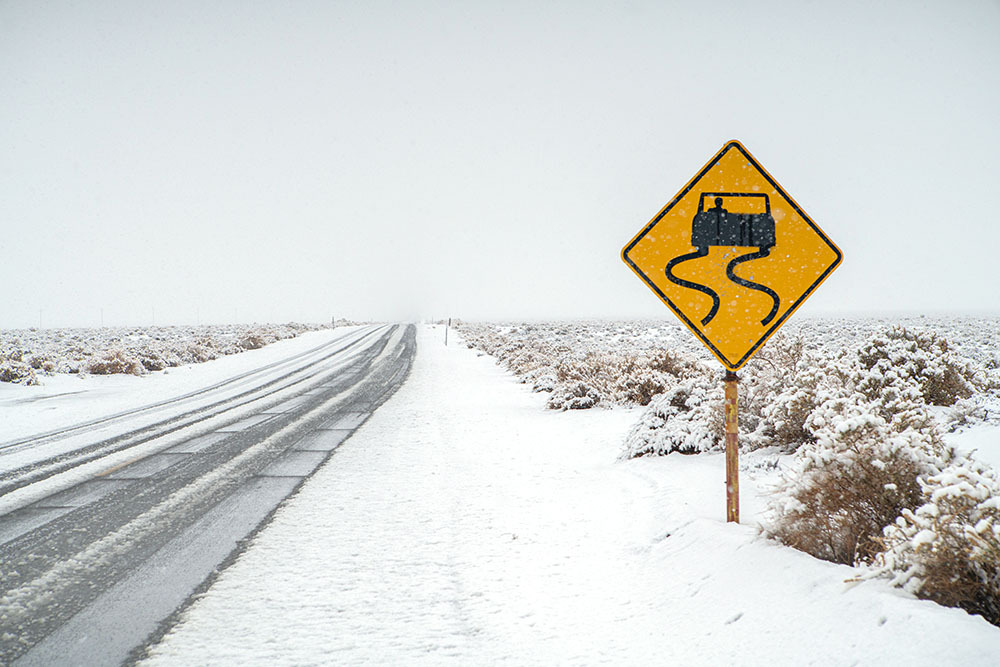 DO
You Need Winter Tires in Saskatchewan?
When the Canadian winter season comes, it's important to re-evaluate how weather-ready your vehicle is for winter driving. Winter tires can help you deal with the weather conditions, such as ice, snow, or freezing rain that come with the cold weather in Saskatchewan. While some drivers choose all-season tires or all-weather tires there is a significant difference in comfort and control with using tires specifically manufactured for winter months.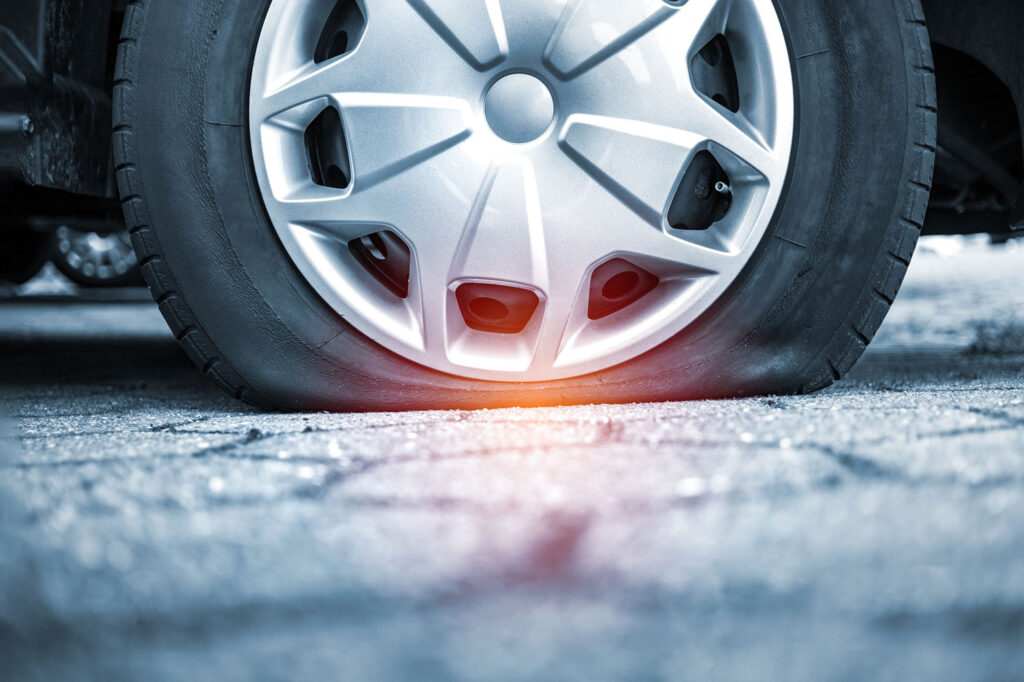 KEEP
The Air Inside: Why Properly Inflated Tires Make All the Difference
The type of tires your car has can affect the ease of handling, cornering, and even fuel economy. Luckily, there's something for everyone since tire manufacturers have created tread designs aligned with usability requirements. Getting the correct tire size might be a must-have in your tire checklist, but the tread design is equally crucial.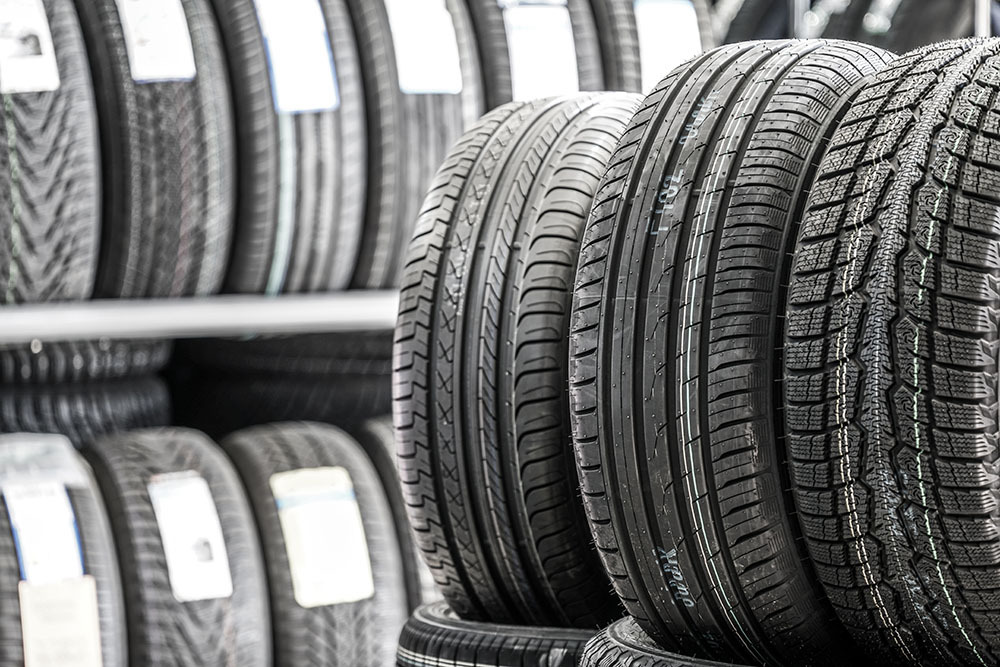 TREAD
DESIGN TYPES, TREAD ELEMENTS
The type of tires your car has can affect the ease of handling, cornering, and even fuel economy. Luckily, there's something for everyone since tire manufacturers have created tread designs aligned with usability requirements. Getting the correct tire size might be a must-have in your tire checklist, but the tread design is equally crucial.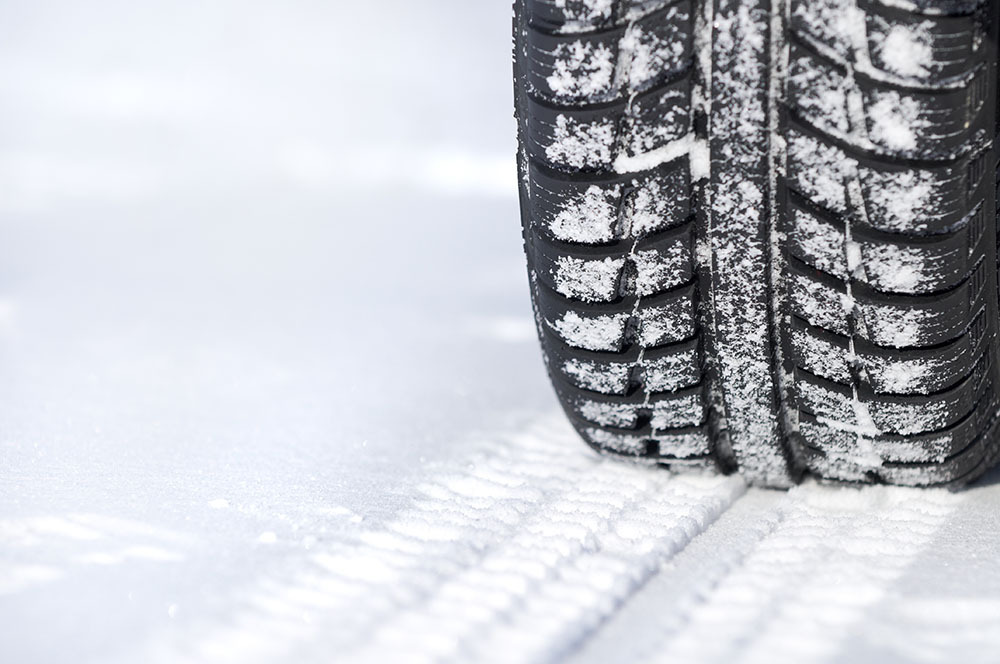 HOW
ARE TIRE TREADS DESIGNED?
Tire treads are designed to provide traction on the road surface, and they are an important part of a tire's overall performance. Tire tread patterns can vary depending on the type of tire, and each tread pattern is designed by the tire manufacturer to provide specific benefits. For example, some tread patterns are designed to provide a better grip on wet or icy surfaces, while others are designed to minimize noise and vibration.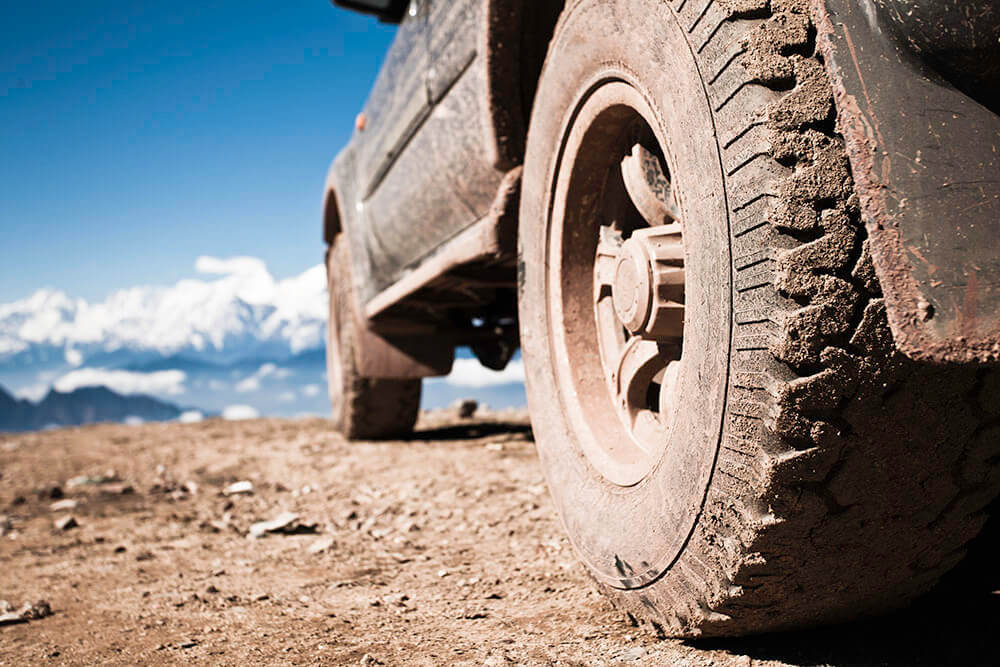 If you're an off-road enthusiast or spend more time on rocky terrain and muddy conditions, you may want to consider buying durable tires with a bulkier and more aggressive tread. Mud terrain tires are great off-road tires for such conditions. They have heavy tread blocks or tread patterns, differentiating them from other tires.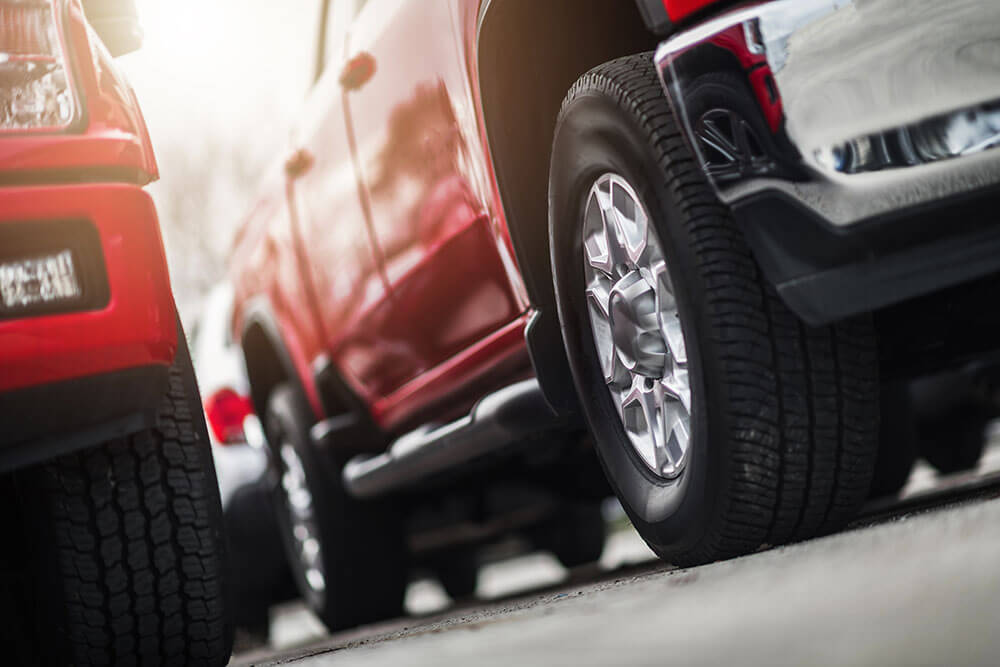 BEST
TIRES FOR HEAVIER LOADS AND LARGER TRAILERS
SUV or trailer tires are engineered to be more versatile than your regular passenger car tire. They are built to carry heavy-duty loads, perform towing duties, and manage intense hauling needs. If your tires have no load-carrying capacity, you can be at great risk while on the road. This is why you must purchase trailer tires that can carry the weight of the trailer plus the additional load put inside it.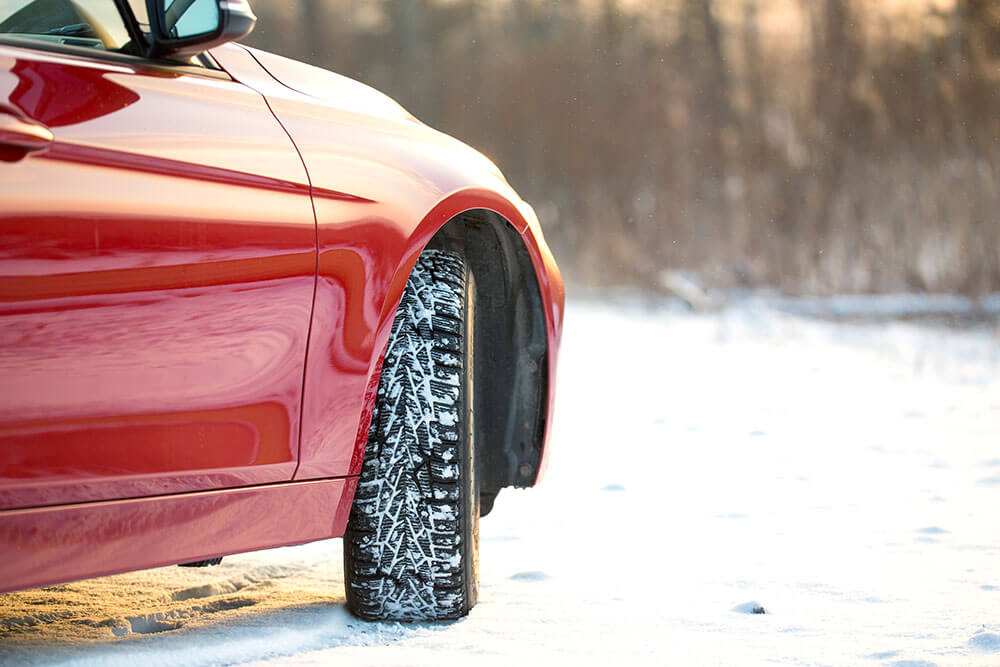 VEHICLE
BRAKING IS ABOUT THE TIRES
The braking system is responsible for converting the kinetic energy of an automotive to heat energy which slows them down. However, tires determine how fast this occurs. Before a stoppage occurs, you must press on the braking pedals, which apply pressure, transmitting the brake fluid through pistons to both front and rear wheels. The stopping distance following the application depends on a car's tires. The better their condition, the shorter the braking distance.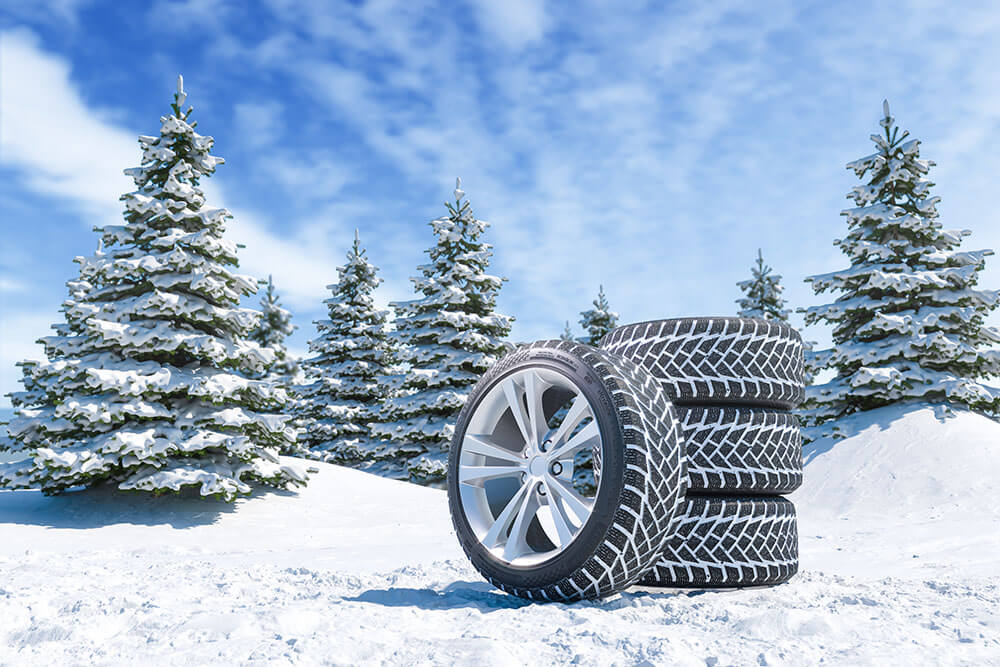 All-SEASON
TIRES VS WINTER TIRES
The sets of tires on your car can define the safety and comfort of your daily driving experience. Luckily, tire manufacturers have designed different types of tires in the market, each with unique characteristics suited and designed for usability under various road and driving conditions.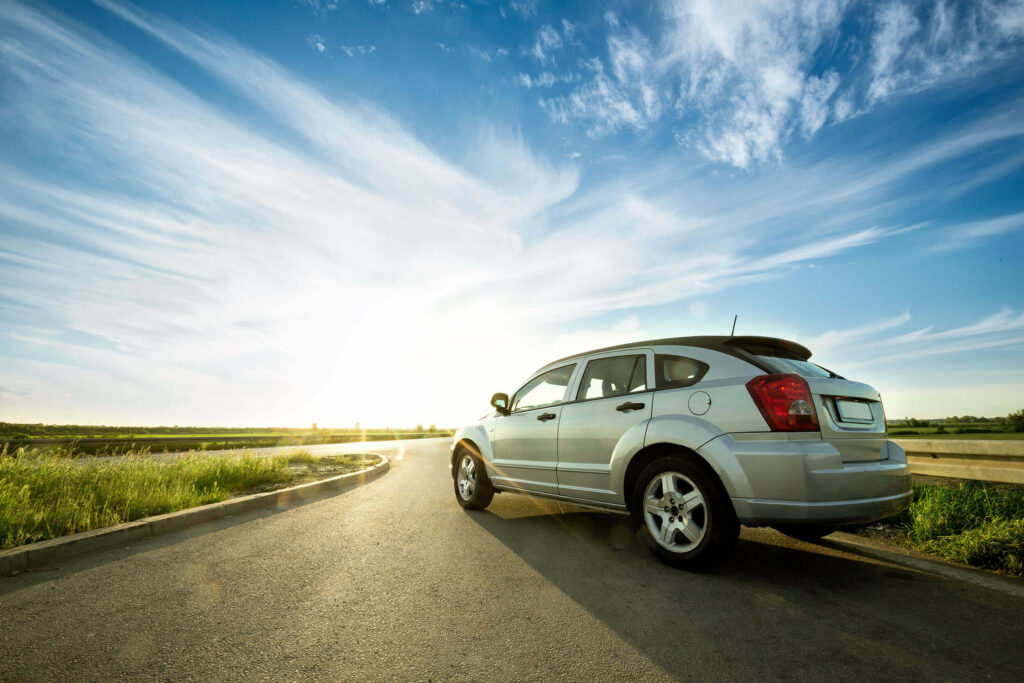 When it comes to vehicles, many things can set each one apart, but tires are one thing they all have in common. No matter what car you drive, having the right tire for your vehicle is extremely important. Having the right tire for your car means having the appropriate set of tires based on the season, i.e., winter tires, summer tires, or even all-season tires if you live in an area where the weather is relatively mild.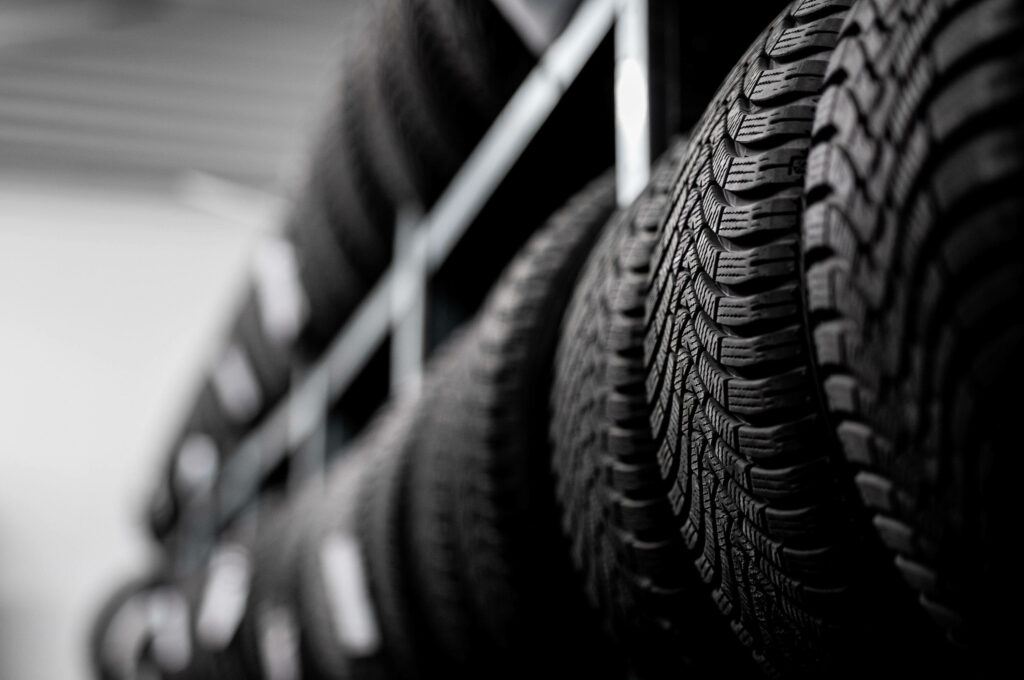 HOW
TO PROPERLY STORE TIRES
Living in Canada requires two sets of tires, winter tires and summer tires, unless you live in the lower mainland of British Columbia, which in that case, you can usually get away with a set of all-season tires. Having two sets of tires will require you to store tires when they are in the off-season. Storing tires isn't challenging, but to preserve your tires' lifespan, there are a few storage tips to follow.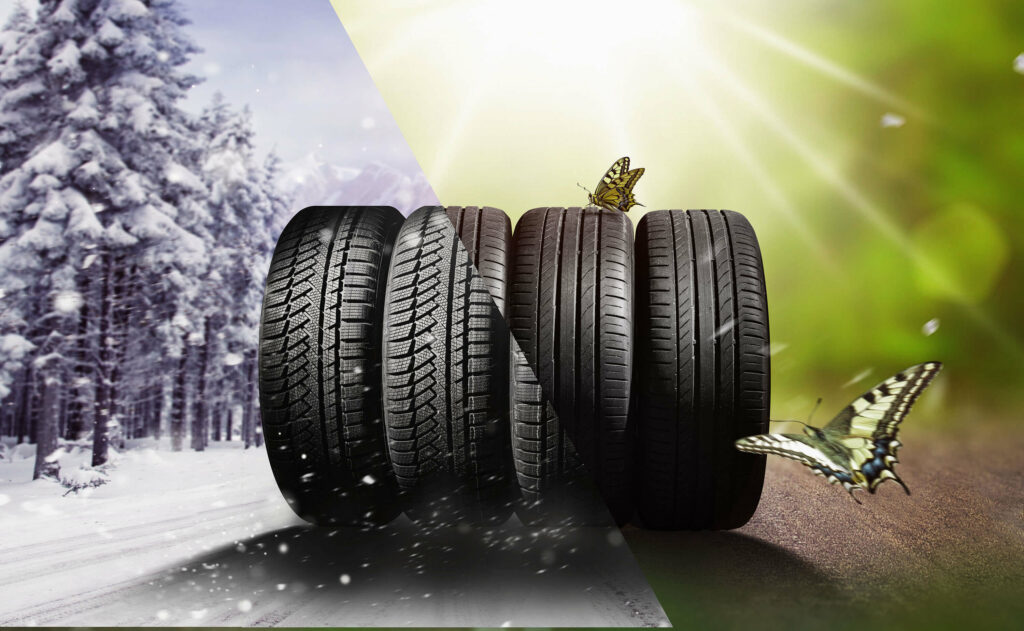 HOW
LONG SHOULD A SET OF TIRES LAST?
There isn't a definitive answer for how long they should last when it comes to vehicle tires. We can say that a set of new tires will last about 96,000km, depending on the tire manufacturer. But, of course, it isn't that simple. Driving that many kilometres on well-kept paved roads is a lot different than driving on more torturous road conditions, such as off-road.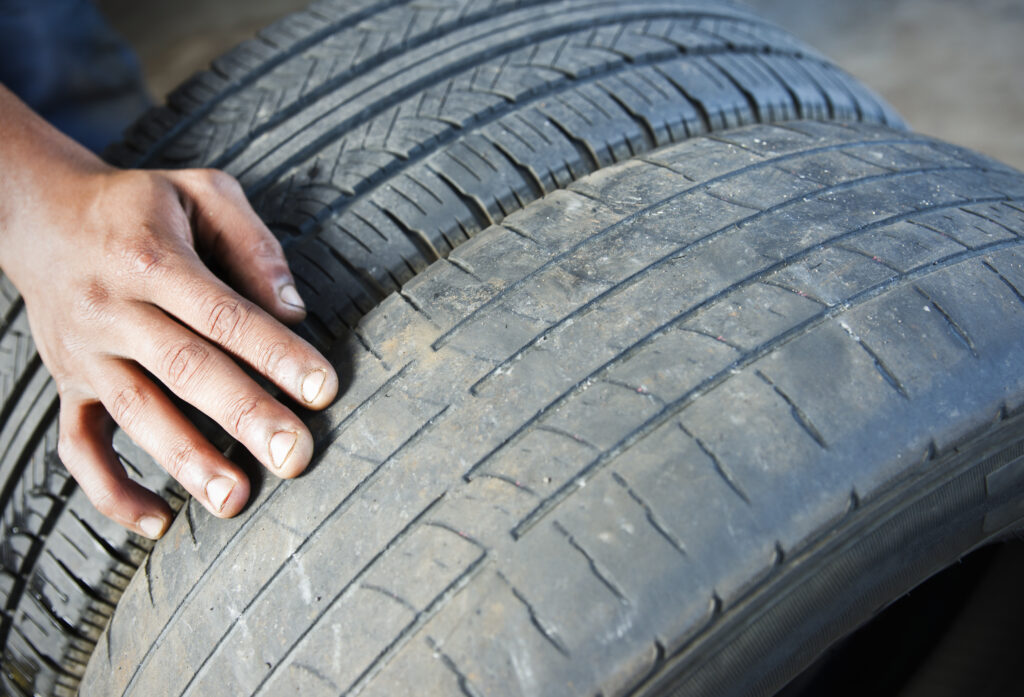 THINGS
TO KNOW BEFORE YOU BUY TIRES
Buying new tires isn't a simple task. There are many things to take into consideration before hitting the road.We all want to get the best deal, but when it comes to tire buying, the cost of them shouldn't be the number one priority. It's about finding the right tires for your vehicle to keep you and your family safe.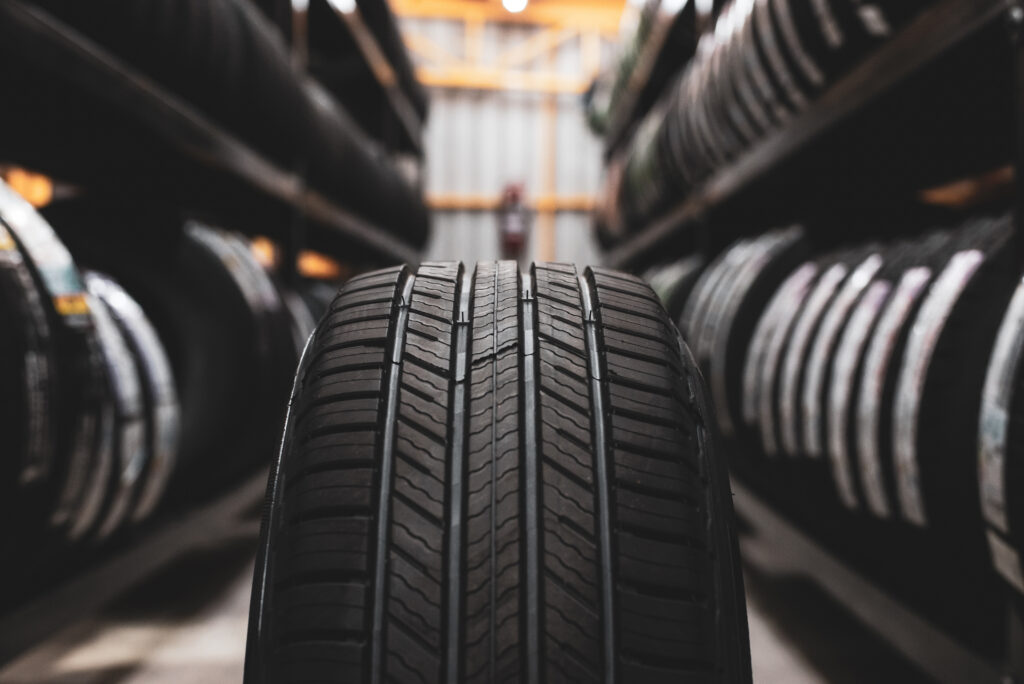 WHAT'S
THE BEST TIRE FOR MY VEHICLE
Buying tires for your vehicle is more than just showing up at a tire shop, pointing at a set of tires and having them installed on your car. Tires are responsible for more than just rolling the car along the road; they keep you and your passengers safe.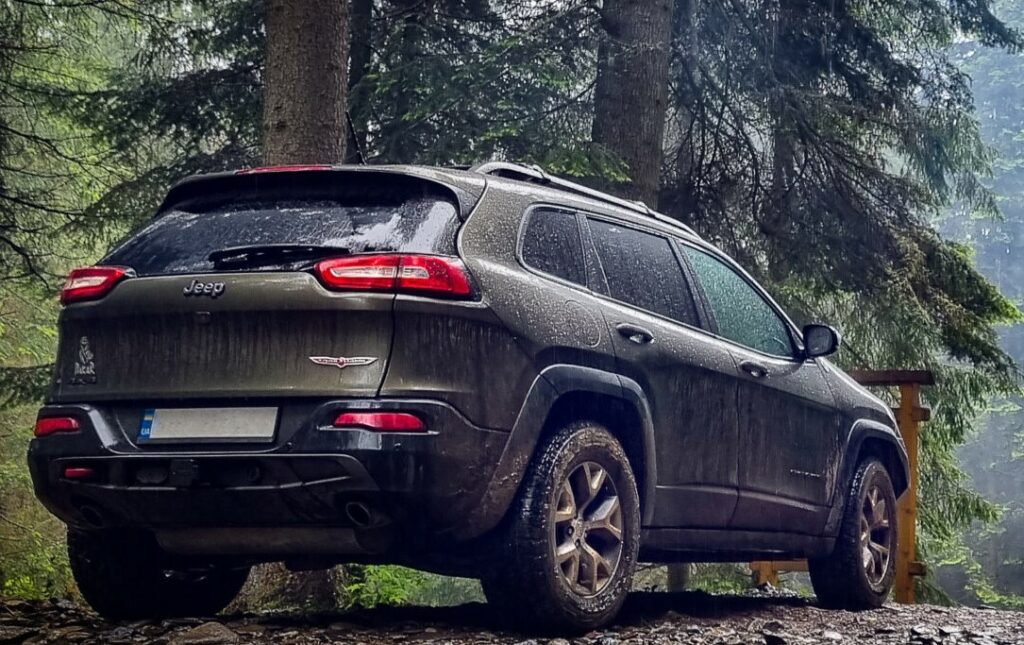 TOP
OFF-ROAD TIRES FOR THE BACKCOUNTRY
Shopping for off-road tires shouldn't be a difficult task; however, it can be overwhelming with all the options out there. If you're an off-road enthusiast and need tires as ambitious as you are, check out the extensive selection at TreadNation.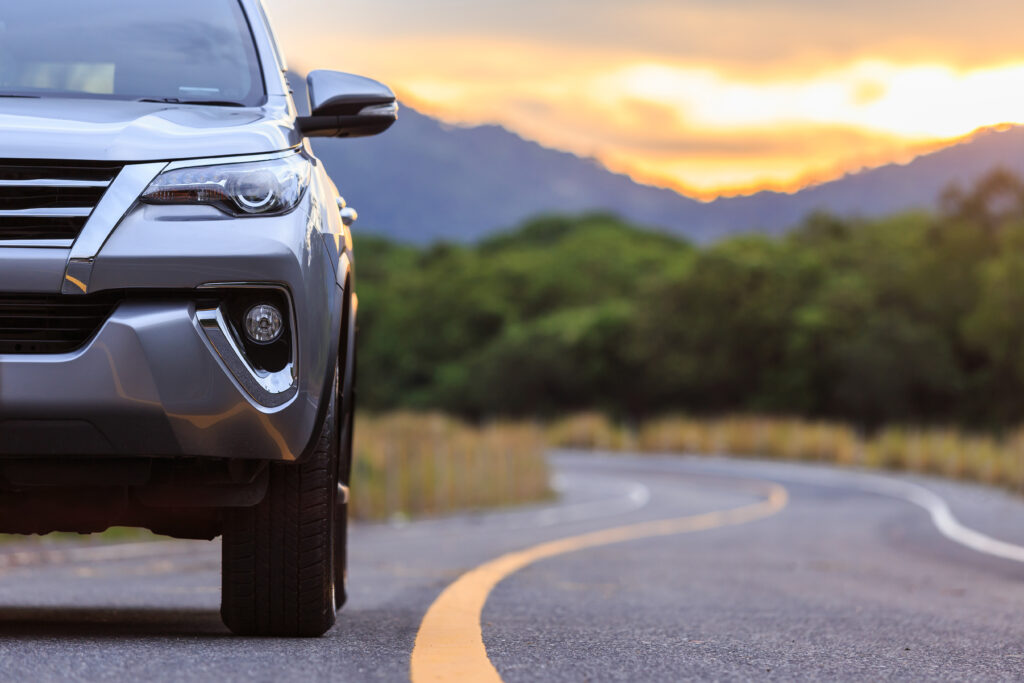 HOW
TO FIND TIRES FOR YOUR SUV
Selecting the appropriate tires for your SUV isn't as easy as it once was. There are (literally) hundreds to choose from. Even for people who take a keen interest in vehicles, researching the perfect tire for your SUV can be challenging.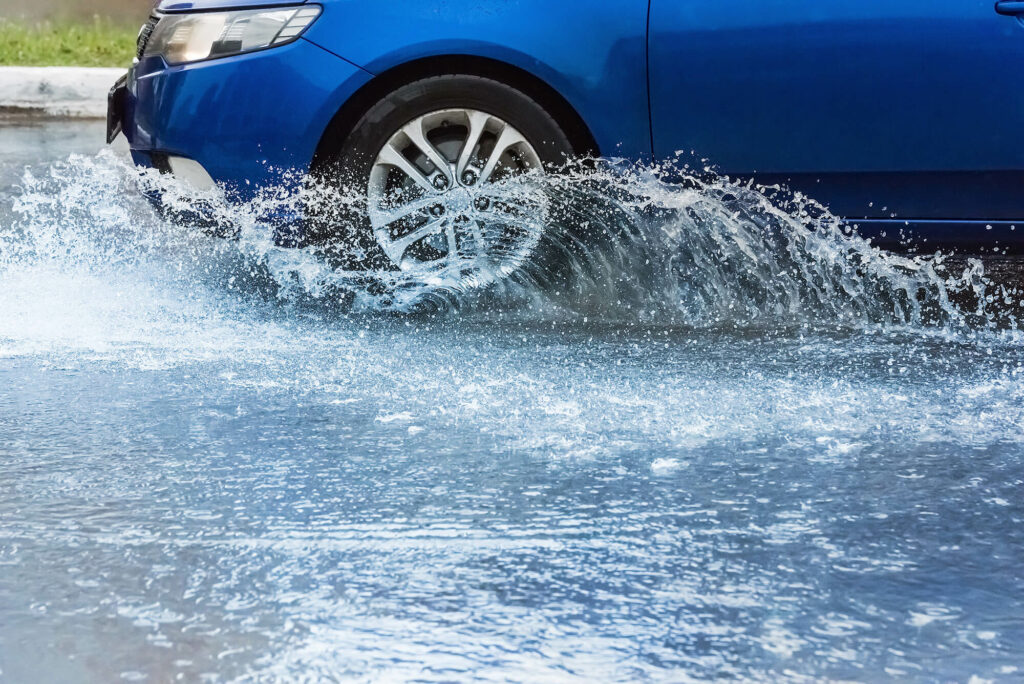 WHY
YOU SHOULD CHANGE YOUR TIRES THIS SPRING
When you drive in Saskatchewan, you must have the right tires for the season. Changing your tires every year is an easy task when you work with the professionals at TreadNation.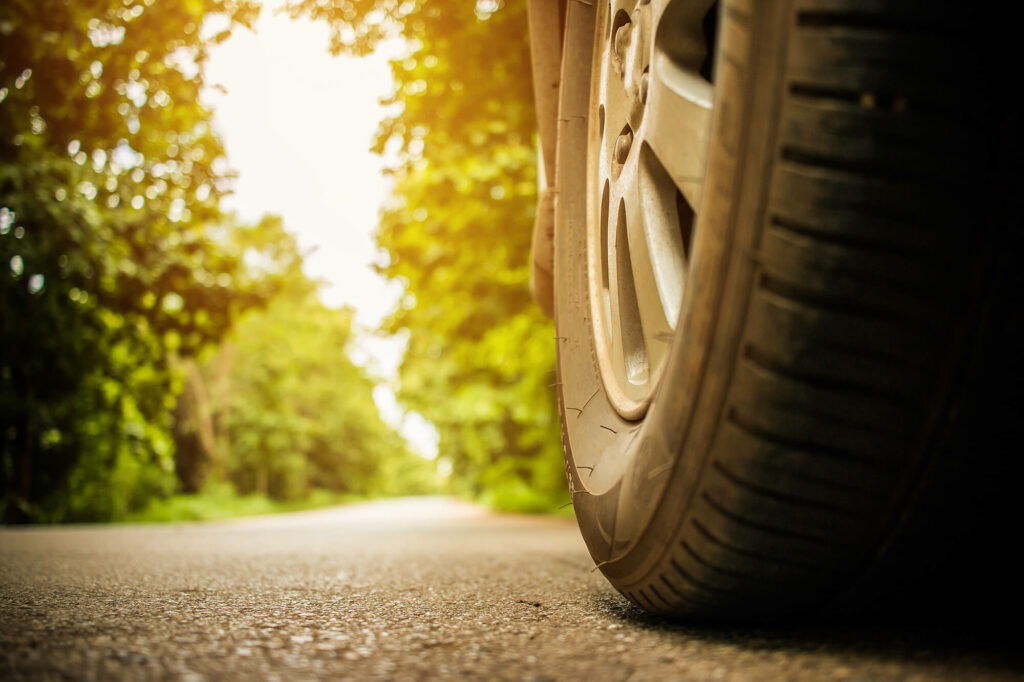 WHEN
YOU SHOULD CHANGE YOUR TIRES
Knowing when the right time to change your tires is crucial. The experts at TreadNation are available to book your tire change appointment and answer any questions you may have about your vehicle.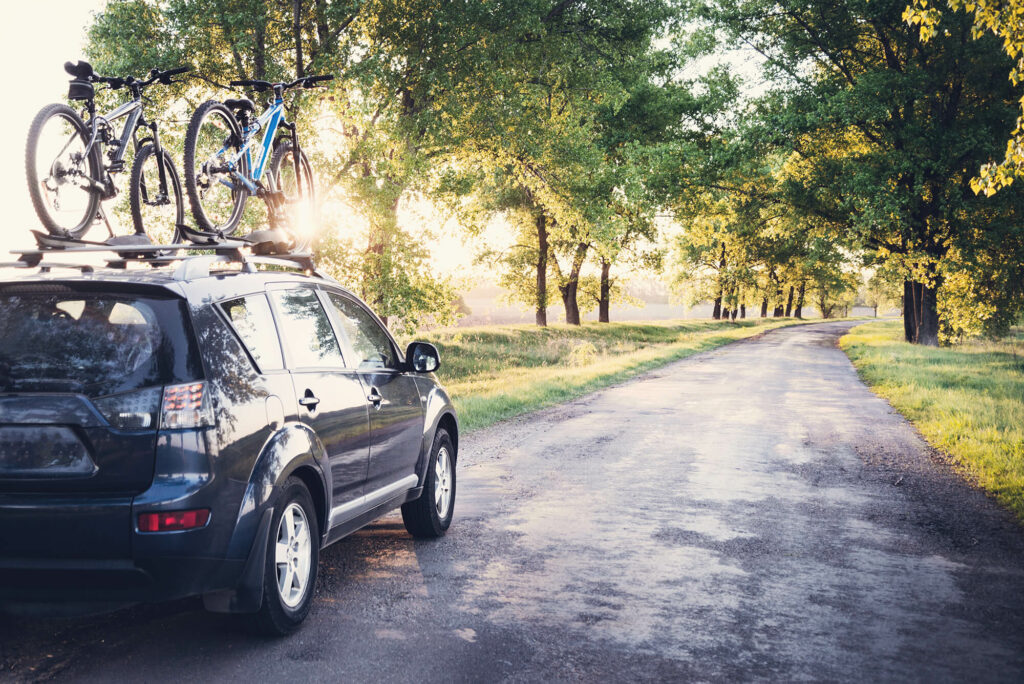 WHY
VISIT TREADNATION POWERED BY FFUN
At TreadNation powered by FFUN Group, we aren't just FFUN; we're experts in everything automotive. If you need new tires, no problem, we have access to all sorts of brands, and we'll sell them to you at cost. Just need a change-over or tire rotation? We've got you covered for that, too!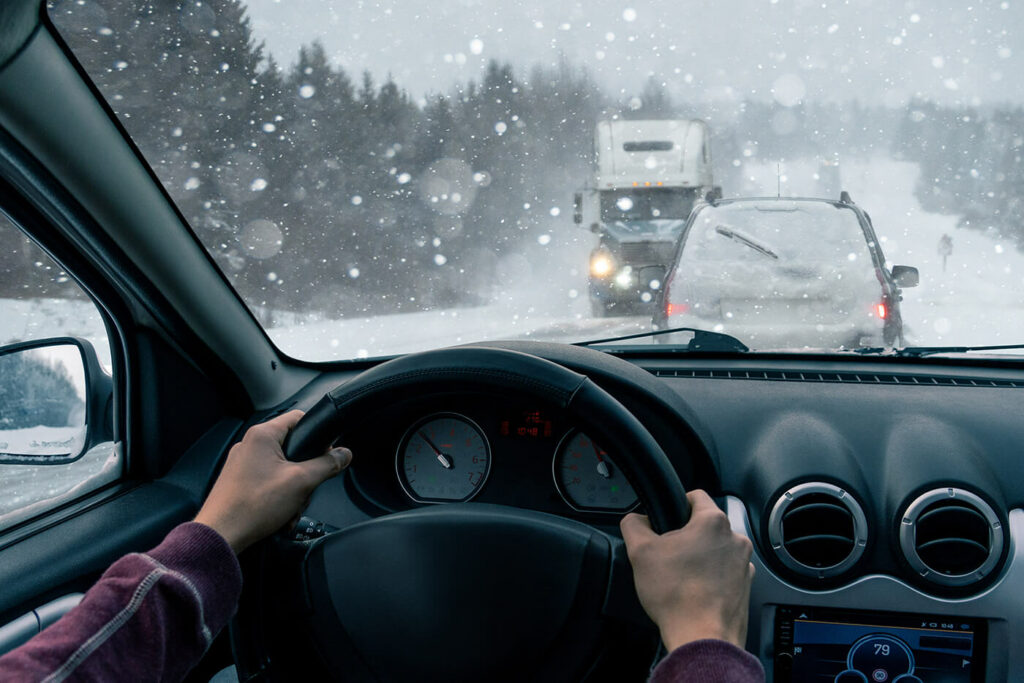 When it comes to changing your tires, timing can be everything. Not only do you want to beat the rush after the first snowfall, it is recommended to change to winter tires when temperatures hit 7 degree Celsius.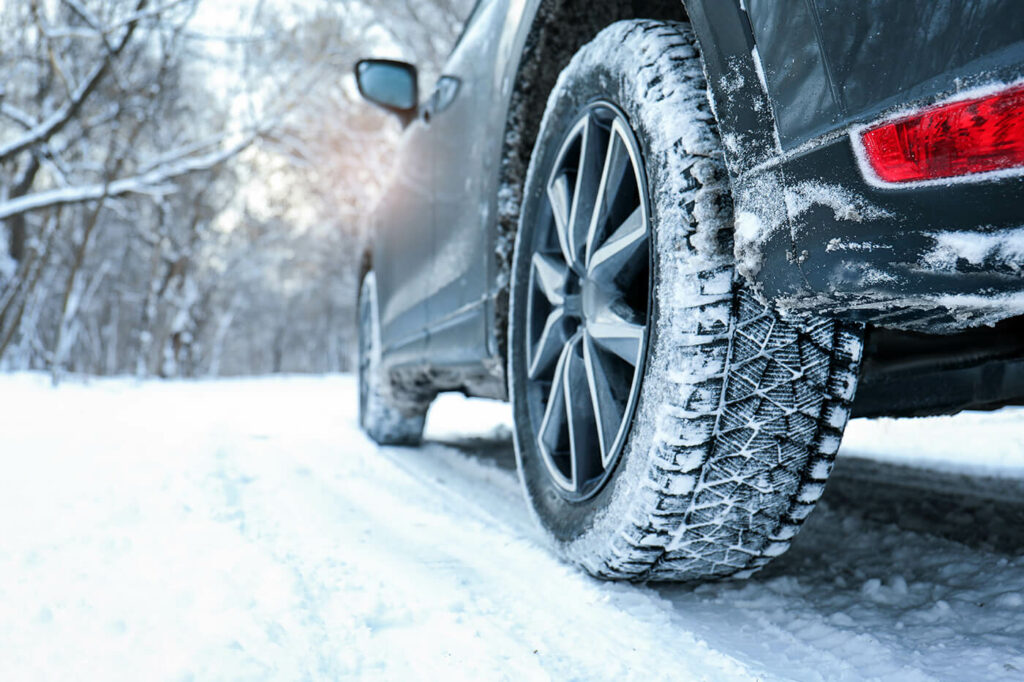 WHY
BUY FROM TREADNATION?
TreadNation, powered by FFUN, is your new go-to place for all things tires! It's never been easier, cheaper, or more convenient to ensure peace of mind this winter.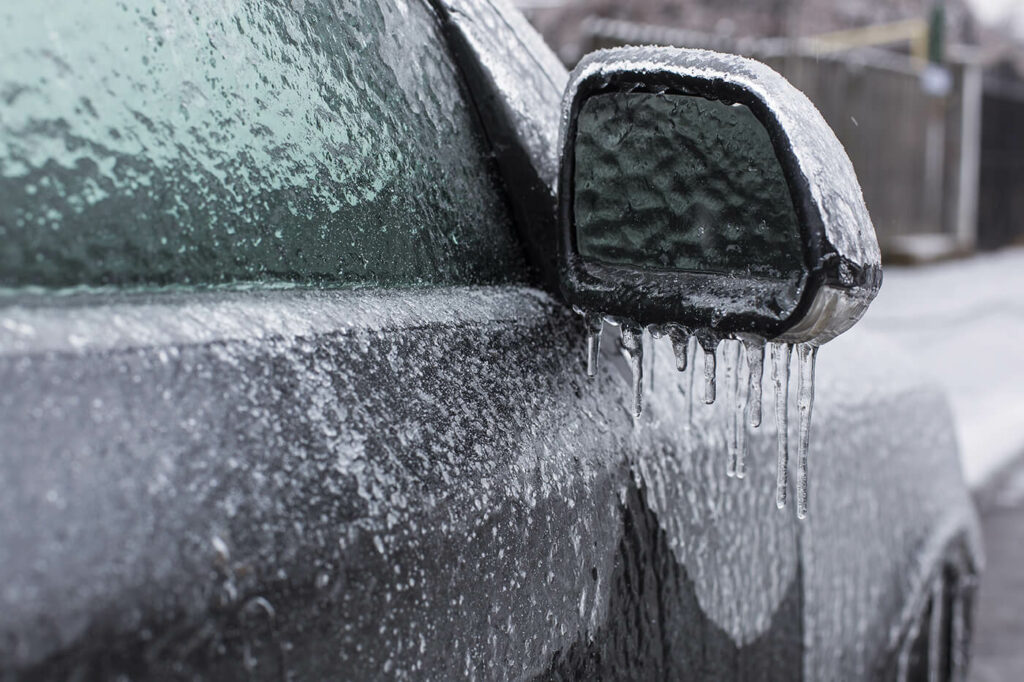 Whether snow is in the forecast or not, all-season tires don't do so well when the mercury dips. If you need further convincing that winter tires are essential for every Saskatchewan driver